When we say "grand" prize, we mean it.
Double your dollars up to $1,000 by making mobile check deposits!
From April 5, 2021 through July 2, 2021, deposit your checks through the Spero Mobile Banking app for a chance to win up to $1,000. The more deposits, the better your chances of winning!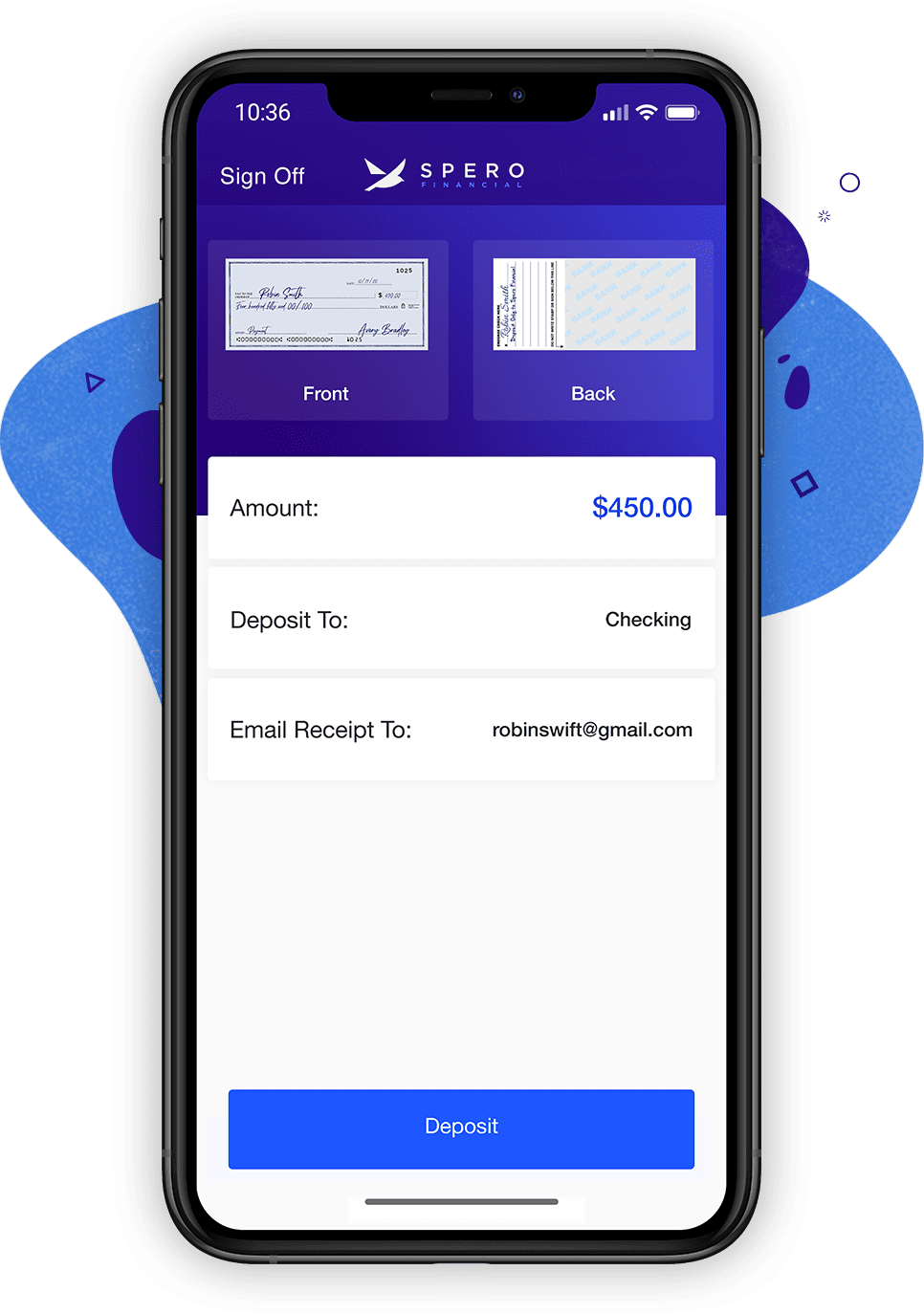 Make a mobile check deposit in five easy steps.
Log in to the Spero Mobile Banking app.
Tap Check Deposit on the home screen.
Endorse the check properly. Add your signature, account number, and "For Mobile Deposit Only to Spero Financial" on the back of the check.
Follow the prompts to snap photos of the front and back of your check.
Tap Deposit.
---
You will receive a confirmation email that your check has been sent and another when your deposit is accepted. Deposits made before 4:15 PM EST/EDT will typically be available the next business day, excluding holds.
Watch step-by-step how to make a mobile deposit.
Say hello to the convenience of depositing checks as soon as you get them.
Contest Rules
NO PURCHASE NECESSARY. PURCHASE OR SIGNING UP FOR ANY SERVICES WILL NOT INCREASE CHANCES OF WINNING. MEMBERSHIP IS NOT REQUIRED TO PARTICIPATE IN THE PRIZE DRAWING.
Promotion entries: Automatic Entries: An eligible Spero member enrolled in Mobile Check Deposit will receive (1) entry each time they complete a qualified mobile deposit through Spero's Mobile Banking App that is posted to a personal deposit account. Qualified Mobile Deposits are limited to $5,000 per day, item, or per deposit.  To be deemed eligible, all qualified mobile deposits must have an account posting date prior to end of the contest period July 2, 2021 at 11:59:59PM EDT. (Excludes business or organization account transactions, mobile deposits that are discovered to be fraudulent, or mobile deposits returned unpaid.) Consumers must be enrolled in Spero Financial's Mobile Banking in order to be entered via Automatic Entry. Manual Entries: Spero Financial members who do not wish to use Mobile Check Deposit and non-members may send an email using the subject line: Mobile Check Deposit to

[email protected]

and include your name, address, and phone number during the promotion period to be entered for a chance to win.
Promotion Period: Promotion starts at 12:00 am on April 5, 2021 and will end at 11:59 pm on July 2, 2021. All times are Eastern Daylight Time and denote the time we receive your entry, not the date/time you made a Mobile Check Deposit or submit your entry by email.
Number of Entries: Automatic Entries: An eligible Spero member enrolled in Spero Mobile Deposit will receive one (1) entry each time they complete a Qualified Mobile Deposit through Spero Financial's Mobile Banking Application ("Mobile Banking App") that has been posted to a personal deposit account. Availability of certain transactions may be subject to meeting eligibility requirements. To be deemed eligible, all Qualified Mobile Deposits must have an account posting date that is prior to the end of the Promotion Period. Qualifying transactions made on Saturdays, Sundays, or Holidays will count as automatic entries when posted to the attached personal deposit account during the Promotion Period. Automatic entries must be posted by 11:59:59PM EDT on July 2, 2021 in order to be eligible. Manual Entries:Manual entries are limited to one per eligible person.
Prize Drawing: Spero Financial will randomly select 3 (three) winners from qualified entries after the promotion period is over. An account credit in the amount equal to each winner's mobile check deposit (up to a maximum of $1,000) will be awarded to the account used for entry. If the entry is $100.99 or less, winner receives $100. If the entry is $101 - $999.99, winner receives exact equal amount. If entry is equal or above $1,000, winner receives $1,000. All manual entry winners are automatically eligible for the maximum prize. If manual entry is a Spero Financial member, winnings will be deposited into the member's primary share. If manual entry is not a Spero Financial member, winnings – provided in a Cashier's Check - will be available for pick-up at a specified Spero Financial location. The drawings will take place no later than Friday, July 16, 2021. The selection of a prize winner hereunder will be Winner does not have to be present to win.
Eligibility: At the time of the drawing, you must be 18 years of age or older, a U.S. Citizen or U.S. Lawful Permanent Resident, and all accounts and loans with Spero Financial must be in good standing. All employees and volunteers of Spero Financial and their immediate family members residing in a single household are not eligible. In the event of a dispute regarding which authorized user of a Mobile Banking App should receive credit for a Mobile Deposit Entry, the primary account holder for the account associated with the Mobile Banking App will be deemed to be the Entrant.
Void where prohibited by law. All federal, state, and local laws and regulations
By accepting a prize, the winner consents to use of his/her name and photograph or likeness for advertising and promotional services such as the CU's newsletter, website, Twitter, Facebook, Instagram, etcetera without compensation. Failure of the entrant to follow the rules of the promotion will void the entry. If the winner refuses to sign a release form within 30 calendar days of the drawing, all prizes will be forfeited.
Release of Claims: All winners, members of any winner's household, relatives, and persons who use any prize awarded by the Credit Union and such person's heirs, assigns, executors, and administrators release and exempt the Credit Union and its directors, officers, staff, agents, and volunteers from any and all claims, actions, demands, or damages which they have now or anytime in the future arising from use of any prize, including personal injury or Spero Financial is not responsible for lost, late, misdirected, or incomplete entries. Late, misdirected, or incomplete entries will be disqualified.
Spero Financial will make every attempt to reach the winner using the information we have on file. If we are not able to contact the winner within 10 days of drawing, the prize will be forfeited.
Prize winners are responsible for all federal, state, local and other taxes or assessments that may be associated with or imposed upon the winner of any prize in this promotion.

Download the Spero Mobile Banking app
to access the mobile deposit feature.