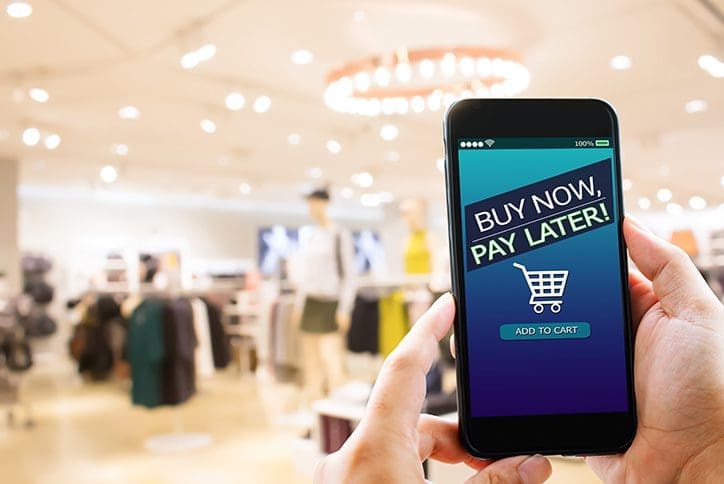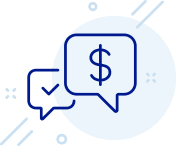 Buy Now, Pay Later in a Nutshell
If you haven't already taken a ride on the "Buy Now, Pay Later" rocket, in short, it is a payment method that allows you to make a purchase and receive the goods immediately while paying for it later. (Hence the name.) The total purchase is divided into equal payments with the first payment due at checkout. Remaining payments will be due periodically until the balance is paid in full.
If you're thinking this sounds a lot like a consumer installment loan –you're right, just with a more enticing name! BNPL has exploded in popularity in recent years and is now commonplace in the checkout process for online and in-store purchases.
How It Works
Say you spilled your coffee all over that computer you've been meaning to replace for the past year. Here you are, needing a new computer by the end of the day. You go online, find the shiny, new machine with the shiny, new price tag. You click add to cart and head to check out when the option to "Buy Now, Pay Later" pops up. Very interesting you think! You decide to go for it. Long story short, your new computer is ready for in-store pick-up, and you've now broken that big price tag down into smaller payments. The $800 computer you just purchased is now an immediate payment of $200 with 3 more $200 payments to follow in the coming six weeks. Convenient, right?
Too Good to be True?
The thing is, BNPL plans are so convenient that consumers often miss the reality of what they truly entail. While it seems like a simple click of a button, there are many things that happen behind the scenes or even right in front of our faces that we don't truly see. All details are listed in the fine print, but it is easy to be distracted by the promise of the purchase that is a few clicks away.
Below are a few things to keep in mind before committing to a BNPL plan:
BNPL are a form of credit. While they may seem completely different from the typical credit card, BNPL plans are a form of credit that have the potential to affect your credit score. As a result, an application and approval are necessary to reap the benefits. Some companies run a hard credit check, meaning it could affect your credit score, while others may run a soft credit check with no affect to your credit.
Fees and interest rates may apply. Read all the details to understand the interest rates, activation fees, late fees, and term details for each plan.
Keep track of your payments. If you select "yes" to BNPL, keeping track of your future payments is vital. If you don't, you can easily end up like many others – forgetting what you actually owe. Statistics show that many consumers allow their BNPL plans to default, which results in unexpected fees and repercussions far beyond what the consumer initially agreed to. One BNPL company reported $700 million in losses last year alone.
BNPL Providers
Most people use BNPL plans for a variety of purchases in a variety of ways. In fact, there are many different companies that offer BNPL services to a vast array of merchants such as Walmart, Target, and Best Buy.
Affirm has many big-name retail partnerships and is one of the only providers whose interest rates vary with each retailer. Affirm has interest rates that range from 0%-30% APR and does not
charge late fees.
Afterpay offers the typical pay-in-four plan and partners with retailers such as Old Navy and Gap. Afterpay charges no interest but there is a fee of up to $8 for late payments.
Klarna partners with stores like Sephora and Foot Locker and also offers the pay-in-four plan with no interest. However, Klarna does charge a late fee of up to $7.
While these are just a few of the companies, there are many more who offer a range of plans, rates, and opportunities for alternative payment methods.
Should You Use BNPL?
As an alternative option to the typical purchase and payment process, "Buy Now, Pay Later" may be a viable option for you. If you are exploring BNPL and deciding whether to jump on the rocket, here are some Pros and Cons to consider:
Pros:
Many plans offer 0% interest.
Many plans require no minimum credit score.
Plans are available across many markets in both online and physical stores.
May help you budget for large, unexpected purchases.
Cons:
On-time payments may not be reported to the main credit bureaus, meaning BNPL plans will not build or improve credit.
As a result of ease of use and accessibility, it becomes easy to overspend.
All plans require an application that may ask for information such as your name, address,
date of birth, phone number, and social security number.
Most companies run a soft credit check.
Some companies/certain plans require a hard credit check, which may affect your credit score. Check the details of each plan.
BNPL plans do not offer rewards or cash back like other forms of credit.
At the end of the day, it is still debt.
It is ultimately up to you to evaluate personal needs and spending habits to determine if BNPL is best for you. Consider using BNPL for necessities and avoid taking on debt for things you don't need. If you go that route, look for zero to minimal interest options – making it easier for you to pay back the loan.
Alternatives to BNPL
If you are considering a BNPL plan to fund your next big purchase, you may want to look into alternative options that offer the same or a similar outcome. Below are a few alternatives to BNPL plans that might meet your needs better.
Credit Cards
Credit card companies have been around for a long time! Most people have a preconceived notion when it comes to using credit cards that is typically influenced by those around them and their experiences with credit cards. Credit cards do carry a lot of weight, so it important to know yourself and know your financial habits to evaluate whether you will benefit from having a personal credit card. With that being said, credit cards offer many benefits and rewards for those who use them responsibly. Most notably, credit cards build credit, earn rewards, and are known for their safety in the case your card is stolen/hacked. For more information on how you can use a credit card to your advantage, give this article a read!
Savings Account/Budget
In the ideal world, the best option is to save for the unexpected – putting a chunk of money away for those unexpected, big-ticket purchases that are unavoidable. Budgeting and allocating an amount of money for the expected/unexpected gives you something to fall back on rather than feeling like other payment alternatives are your only option. For more information and tips for saving, give this article a read!
If you are still on the fence on if BNPL is/is not right for you, we are here to help! Feel free to contact us or stop by one of our Spero branches, so that we can help you determine what is the best option for you!
---
This material is for educational purposes only and is not intended to provide specific advice or recommendations for any individual.