HAVE PEACE OF MIND
Text Fraud Alerts
Rest knowing your debit and credit cards are monitored 24/7 to protect your money.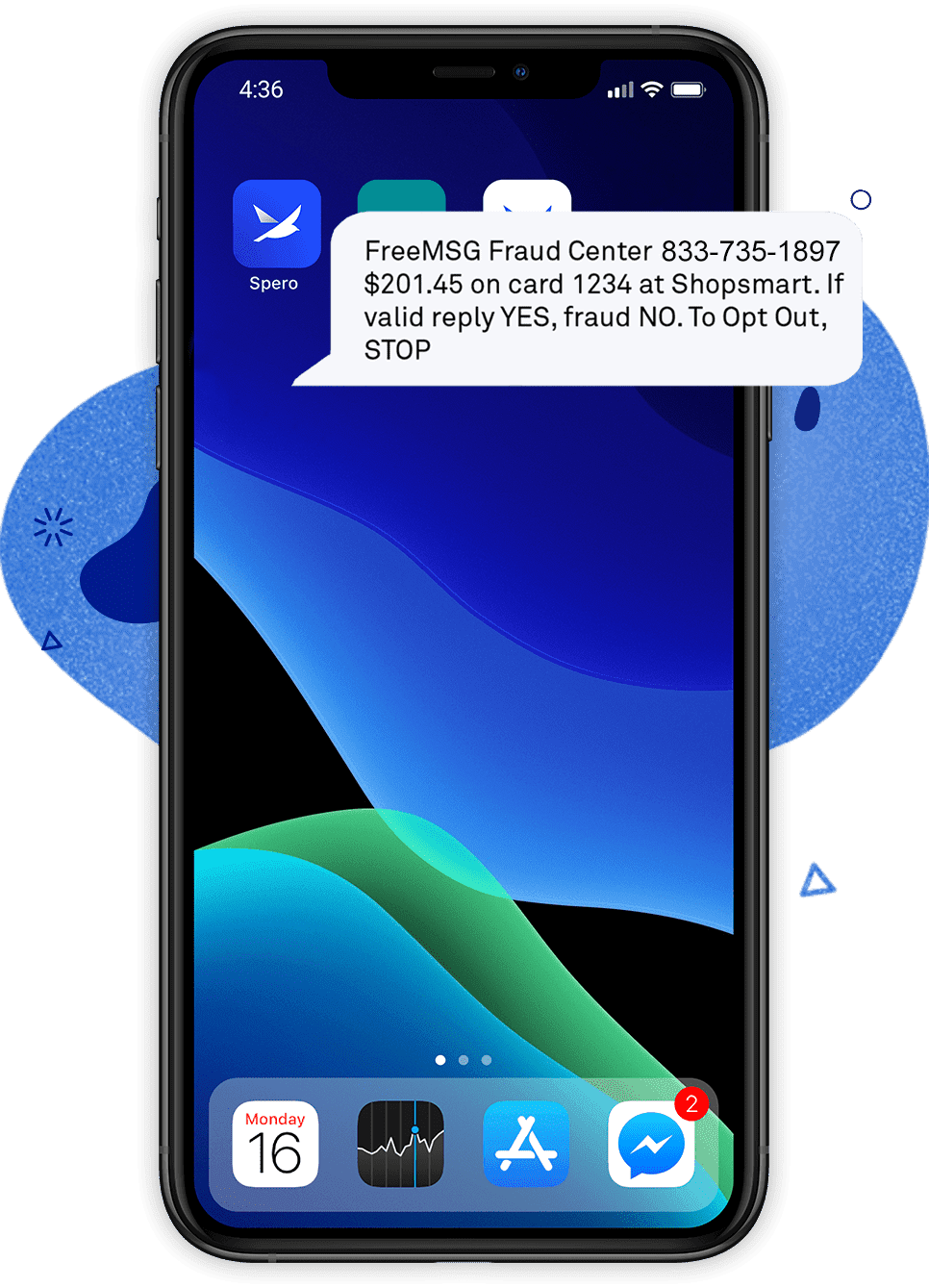 Here's How It Works:
If suspicious activity is detected on your Spero debit card or credit card, you'll receive a text message with transaction details. This added layer of protection gives you more control to respond conveniently to security alerts!
Respond "Yes" or "No" to confirm/deny the transaction.
If it's a legit transaction, denote Yes. Your card will be unblocked. No further action is needed.
If it's a fraudulent charge, denote No. You'll receive a follow-up text to call the Fraud Center. The card will remain blocked for your protection.
For debit cards, the Fraud Center can be contacted at 833-735-1897. For credit cards, the Fraud Center can be contacted at at 888-918-7313.
You're automatically enrolled in fraud alerts as a Spero member. Just ensure your mobile number and email is up-to-date in our system!
If we do not receive a response from you in a short time-frame, our Fraud Center will contact you via a phone call and/or email.
For Your Safety
Best Practices to Keep Your Account Safe
We'll never ask for sensitive information by text or email. If you are ever in doubt that an email, text, or phone call is from us, contact us immediately.
If an unsolicited request to verify account information is received, contact our Fraud Department through verified telephone numbers and email addresses on our websites or the back of your debit/credit card, not through those provided in texts or emails.
Enable Multi-Factor Authentication (MFA) for all accounts, and do not provide MFA codes or passwords to anyone over the phone.
Understand we will not ask members to transfer funds between accounts in order to help prevent fraud.
Be skeptical of callers that provide personally identifiable information, such as social security numbers and past addresses, as proof of legitimacy. Criminals use a variety of tactics to collect this information such as phishing and reverse-engineering, which may be used repeatedly in a variety of scams and frauds.