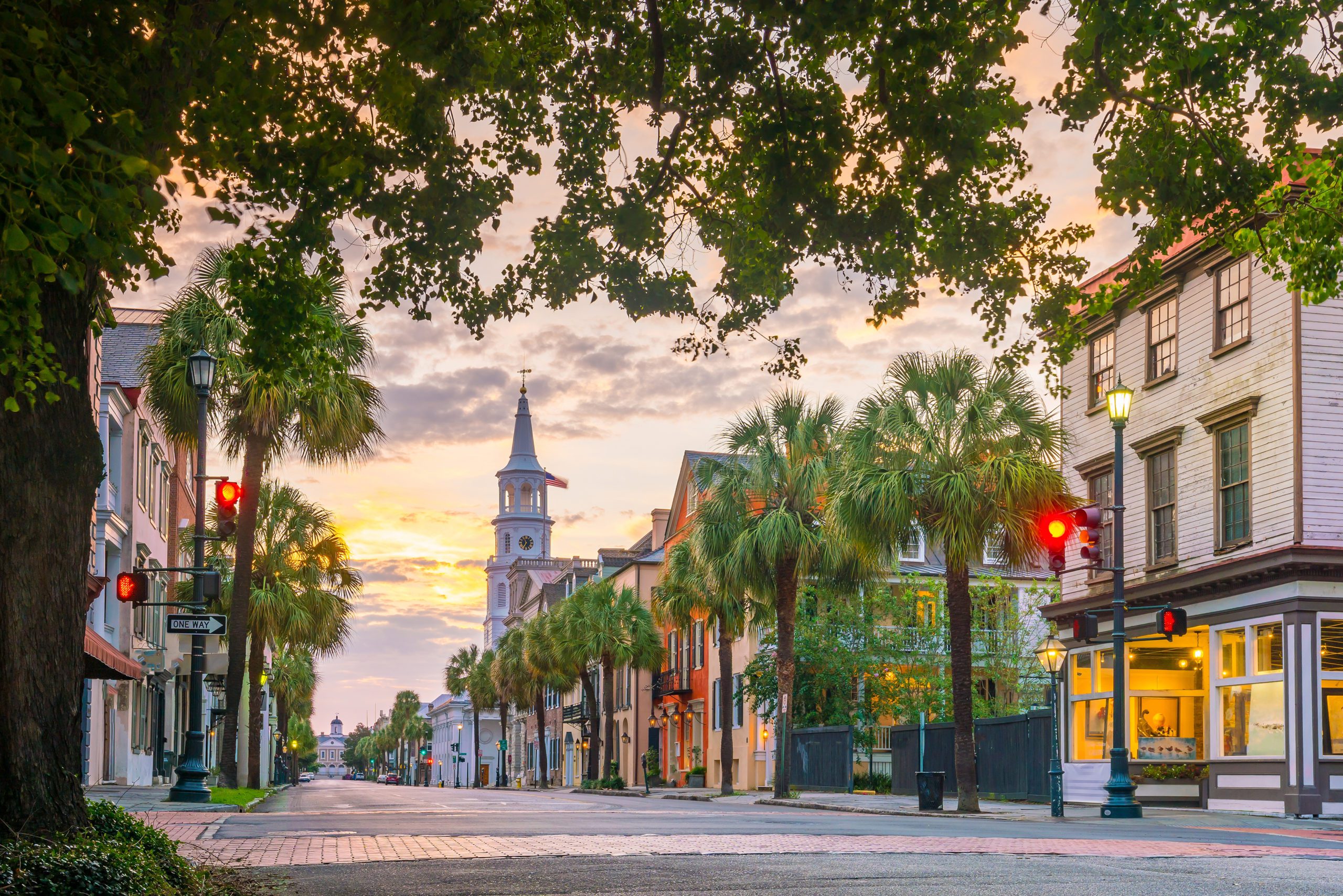 Summer may be a time for vacations, but you don't have to take a full week away to plan a great — and romantic — getaway.
South Carolina is packed with places that are not only fun to visit but also offer relaxing lodging, fantastic food, and idyllic views. For our top picks, check out these six romantic weekend getaways in South Carolina.
1. Charleston
Known for its many historical churches, "The Holy City" is one of the top destinations for a laid-back, romantic getaway. Whether you choose to visit the historic setting of Charleston's downtown (check out The Mills House for a nostalgic feel near all of the most popular to-do's), or you rather stay beach side in nearby Isle of Palms or Folly Beach, you'll be sure to have a great time. For a walking tour you won't forget, stroll through the Market toward East Bay Street and grab a few treats along the way. Then, head down Rainbow Row, past its colorful iconic homes, and end at The Battery, where you can catch an ocean breeze while exploring the park with antebellum relics. If you have time, enhance the romance with a dinner cruise for two. You really can't go wrong with a romantic getaway in Charleston.
2. Blue Ridge Mountains
For outdoor adventure seekers, there's no better place than the Blue Ridge Mountains. Book your stay at a local bed & breakfast (like Red Horse Inn in Landrum), then put your windows down and enjoy the fresh air with a drive through the foothills of the Blue Ridge Parkway. If you're up for a little adventure, there are plenty of places to hike together — like Caesar's Head or Ravencliff Falls. For a challenge, try hiking Sassafras Mountain, the highest point in the state of South Carolina. On your way back to your place of stay, stop by a local restaurant like The Hare and Hound for a quiet dining treat.
3. Hilton Head/Beaufort
At the southernmost tip of the state, you'll find Hilton Head, a golfer's paradise and couples' dream. Take a ferry to Daufuskie Island, and wander among the Spanish moss-covered oaks that are so iconic to South Carolina's Lowcountry. History lovers can schedule an excursion with the Gullah Heritage Trail Tours, which explores the life and culture of the Gullah people. Once you're done, take a short drive into nearby Beaufort, where you'll find a quaint downtown full of restaurants, wine bars, bookstores, and more. For a special treat, check out Wren, a restaurant serving bistro-style lunch and dinner, as well as craft beers and wines.
4. Aiken
If arts are your thing, make your way to Aiken, SC. Start your day with a stop by New Moon Cafe for coffee and pastries, then head toward the Aiken Center for the Arts to check out the latest exhibition. Take time to visit the various shops and stores in downtown Aiken, maybe grabbing dinner at the Aiken Brewing Company. Then, tuck in at one of the local stays — like the Rose Hill Estate for those who love a good B&B, or The Willcox hotel for a memorable four-star experience, complete with a spa. Bonus points if you make it into town for the Aiken Steeplechase, which highlights the region's love of horses in a good old-fashioned race!
5. Georgetown
For more of a quiet coastal getaway, head toward Georgetown, which serves as the halfway point between Charleston and Myrtle Beach. This low-key getaway is ideal for couples who want some time to themselves. Start your visit with a stay at the Shaw House Bed & Breakfast. In the morning, walk a few blocks toward the river, where you can spend the rest of your day exploring the city's famous riverwalk. First, learn a bit of South Carolina history at the Rice Museum, then head a few doors down to the South Carolina Maritime Museum, and grab dinner at one of the local restaurants. To wrap up your day together, take a romantic stroll on the riverwalk boardwalk to catch the stunning sunset over the water.
6. Greenville
And thanks to its well-deserved reputation as a top "food city," there is no shortage of places to experience some of the best restaurants in the state. Once you've treated your taste buds, walk off your feast with a stroll through Falls Park — a gorgeous park surrounding the Reedy River Falls, which flow right through the heart of downtown. From there, you're within walking distance of the Westin-Poinsett hotel, the century-old hotel known for former resident (and holiday flower namesake) Joel Poinsett.
This material is for educational purposes only and is not intended to provide specific advice or recommendations for any individual.