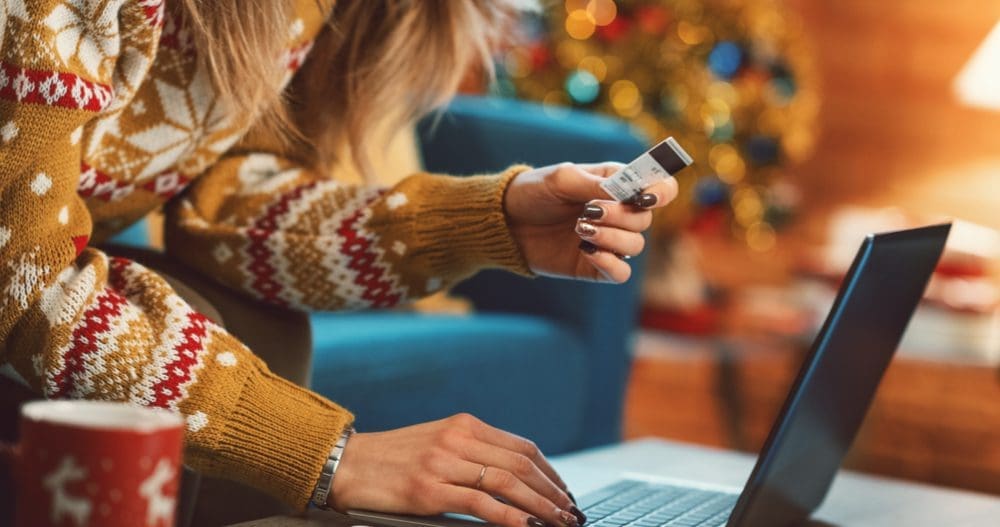 When the holidays roll around — sometime between October and lasting through December, there are large increases in shopping, with the largest surge of holiday purchases happening somewhere around the end of November and the first week of December. Unfortunately, this increase in activity — both online and in local stores — offers thieves some cover, and means a spike in identity theft, credit card fraud and other types of fraud are more likely.
Protect Yourself from Holiday Fraud
Fortunately, there are several steps you can take to ensure that your shopping practices — no matter where or how you decide to spend your holiday budget — are more secure. Here are a few tips on how to protect yourself from holiday fraud and theft.
1. Watch your cards.
If you're using credit or debit cards for most of your shopping, make sure you know where they are at all times. In addition, double check ATMs or card scanners for "skimmers," expertly-placed covers that scan your card as you insert it, pulling all the data off and remotely storing it somewhere else. If there's ever a point in time where you can't put your hands on your card, make sure to report it immediately as lost or stolen so the account can be blocked and a new card can be issued.
2. Keep your receipts.
It's a good practice to keep your receipts for anything you purchase. This will help significantly when asking for a refund or making a return.
3. Check your accounts often.
While many financial institutions will shut down a credit or debit card if they see something suspicious, increased activity during the holidays makes it harder to determine what's out of the ordinary for even the best account watchers. It's a good practice to keep a close eye on your accounts in general, but especially during the holiday season. This will help you notice if anything is out-of-place. If you do notice an unauthorized charge that doesn't belong, take action immediately to prevent losing access to your funds for a long period of time, or leaving your account open for someone else to keep charging to.
4. Watch for copycats.
More and more online vendors are requiring you to create an account or give them at least some information, but know that it's not common practice for anyone to ask for that information via email. This practice of sending an email with links that either request information or download viruses is one of the most common ways that online hackers can gain access to your personal information, known as "phishing". Make sure you're on your company's real site — always check the spelling of the URL address and the overall site design to be sure — and of course, don't click on links from emails unless you know where it came from and where it's directing you. This goes double for shipping invoices that send you a link to track your shipment; generally, it's better to go directly to the website and get your order tracking information, rather than trusting that email link.
5. Practice good computer use.
When it comes to shopping online, there are a lot of things you can do to ensure you're operating in the safest way possible. First, check the URL address bar. You'll need to confirm two things: that a padlock on the left is closed (showing the site is secure), and that the URL directly matches the site you were intending to go to. If you're planning to enter any information on a site like payment details, banking information or more, make sure you see an https:/ connection (rather than the simple http:/). That "s" means the site you are on is secure and has an SSL certificate as such.

Additionally, you'll want to add two other rules of engagement to your shopping repertoire — not using public wi-fi, and adding some sort of virus scanner or protection (yes, even to your phone). These two things are simple but can prevent a myriad of problems caused by outside — but local — hackers.

Finally, when it comes to your online accounts — whether they are financial accounts or simple shopping profiles — keep these two things in mind: use secure passwords (no, "12345" is not secure) and log out when you're finished.
6. Track your purchases.
If you're one of those people who does all their shopping within a matter of days, it can be hard to keep up with what you bought for whom, from what company, and when it's supposed to arrive, which allows a larger window of opportunity for porch theft or package disappearances to occur. Your best bet? Keep a tracker of what you bought, from where, how much it cost, and when it's supposed to arrive. Not only will it help remind you to keep an eye out for packages and presents as they are delivered, but if you have to make a claim for something that is missing, you'll know exactly what it was and how much it was worth.
7. Watch for suspicious promotions.
If you see an offer — whether it's a pop-up online, a Facebook ad or a sign near the mall — if it seems too good to be true, it probably is. Before you give anyone any information, do your due diligence and find out if it's a real deal or a real steal. Look at reviews of the company. Ask your network if anyone has purchased or dealt with the brand. These few steps can save you a lot of headache if you're able to determine validity up front.

Also, 'tis the season for stores to offer big incentives in exchange for opening a store credit card. Outside of the obvious things you need to consider (do you need another credit card, or how will it affect your credit rating?), it's important to be hyper-aware during the enrollment process. On applications, never let anyone around while you're jotting down your social security number, or better yet, ask to give that in person to the clerk entering your information to the computer so it's not written down anywhere. Also, feel free to ask about their privacy policies and how your information will be recorded and discarded after it is in their system.
At Spero, we want to make sure you don't fall prey to fraud or theft while you're out shopping this holiday season, and we're here to help make sure that every online interaction is safe and secure. If there's any way that we can help in your efforts, our member representatives are always here to help you maximize your security and safeguard your financial future.
This material is for educational purposes only and is not intended to provide specific advice or recommendations for any individual.