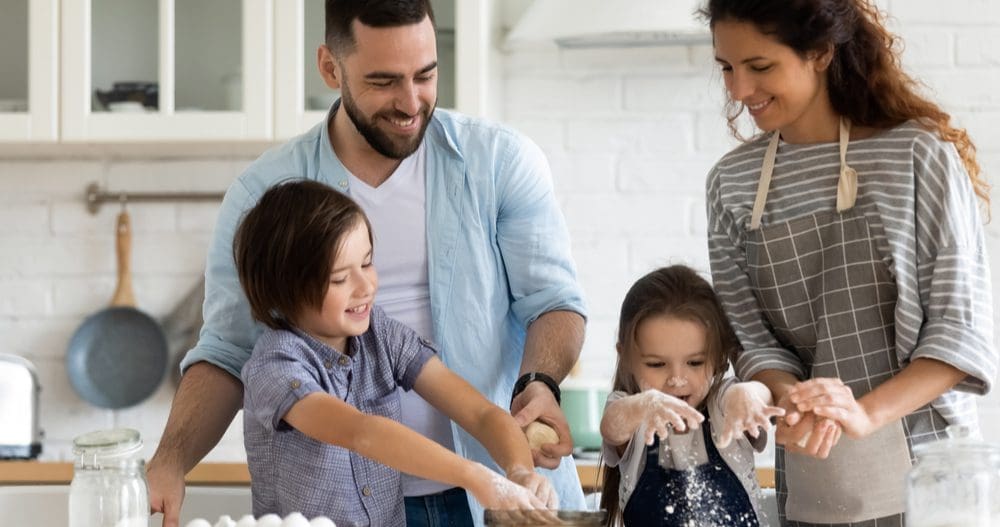 It didn't occur to you that a Credit Union would give cooking advice? Think again. Living within a budget is not always easy. Food costs have a way of pushing our family budgets beyond their limit, especially if you dine out regularly. According to a recent Bureau of Labor Statistics Report, the average American family spends over $3,000 a year going out to eat. Keeping that food bill under control is a challenge, which becomes ever more difficult if you have growing kids who get hungry several times a day — every day!
Unfortunately, it's often the less healthy food choices that appear to be cheaper. But not only can healthy meals be just as cost effective, they will make for a healthier family. People who establish regular healthy eating habits take fewer sick days and are more productive on the job. In addition, a healthy diet means more nutritional value saving you money on vitamins and supplements to treat unwanted illnesses and symptoms. Some medical insurance companies and employers even offer financial incentives for healthy members who participate in fitness programs and keep their blood pressure, cholesterol, and triglycerides down through diet and exercise.
Ten Healthy Family Meals Under $10
Think twice before pulling into that burger joint or grabbing that pizza (with the free two-liter soda!) and try some of our favorite healthy meals that come in under $10 for a family of four. We've included vegetarian meals as well!
Thank goodness for pasta and rice!
Sometimes it can feel like your kids' tummies are a bottomless pit — impossible to fill them up. Rice and pasta are an inexpensive way to satisfy picky kids, and as long as your kids stay active they can handle the extra carbs. Combine them with some healthy protein and vegetables or use spiral or riced veggies for yourself, and you've got a good meal.
Healthy Fried Rice
Does your family love Chinese? You can try your hand at making your own for a fraction of the cost of eating out. One of the keys to successful fried rice is using cold rice that you cooked earlier — maybe even the day before. You can play around with the kind of rice you use, depending on your preferences and budget. If you want to go for an even healthier option, consider brown rice or riced cauliflower, which are both almost as inexpensive as white rice.
You'll need eggs (great protein!), oil, rice, soy sauce, a few of your favorite veggies thrown in, and a meat of your choice — like chicken or shrimp. Check out this sample recipe for a chicken fried rice.
Pasta Salad
Pasta salad is a wonderful, one-dish meal on hot summer nights. And it can be modified in so many ways to suit the various taste buds of your little eaters. Go veggie, or throw in grilled chicken or pepperoni for added protein. Mix and match your favorite vegetables like bell peppers, cucumbers, carrot slivers, or cherry tomatoes. Include cheese cubes, olives, avocado slices—think outside the bowl! Let your kids choose the dressing. Check out these ideas for variations.
Fettuccini Alfredo… or Bowtie, or Shells, or Rotini
Alfredo sauce is a beloved Italian pasta sauce made from heavy cream and parmesan cheese, and a great alternative from the usual marinara. But many opt for the processed jarred sauce in lieu of making their own because they do not realize how easy Alfredo sauce is to make. It is much tastier, healthier, and more authentic when made from scratch and only takes a few minutes. Boil up your favorite pasta, steam some peas or broccoli, and try out this tasty version. You can always add a baked or grilled chicken breast if your family is a stickler for meat on the dinner plate.
Beans, Beans, Beans!
Beans are a fantastic choice for getting that protein into your diet without breaking the bank, or if you are going vegetarian. Start with dried beans to save even more money! There are so many creative and delicious ways to make beans do the heavy lifting on your plate. Here are a few of our favs:
Rosemary White Bean Soup or Turkey White Bean Chili
Who doesn't love a comforting bowl of soup? This delicious and unusual soup from the Barefoot Contessa is the perfect end to a long day. We love it for its unique blend of rich flavors, satisfying texture, and unusual combination of ingredients. This recipe uses good quality chicken stock, but no chicken. You can add baked, shredded chicken breast if you like, for an extra oomph. Or, if you want an inexpensive and healthy meat to take center stage, try Emeril's Turkey and White Bean Chili. Both of these recipes make six or more servings for under $10, require minimal active prep and cooking time, and taste even better the next day for lunch.
Black Bean and Sweet Potato Burritos
This is such a great dish to get in some awesome super foods while keeping that grocery bill under control. (Alert: this one is a little labor intensive and not for the fast food lover — but well worth the effort) Sweet potatoes are good for you and your wallet! And who knew that sweet potatoes and black beans go together like peanut butter and jelly? Or cookies and milk? Add some roasted veggies, rich spices, and fresh cilantro and you have a winner! This recipe includes several ingredients that you can omit or tweak to please your taste buds.
Black-eyed Peas and Pork…with Kale
Did you grow up eating Hoppin' John at New Year's? If you did, this tasty dish will trigger your nostalgia. If you didn't, you are in for a fun treat. This variation on beans and rice mixes it up to make for a super yummy, satisfying but frugal meal.
It's All About the Casseroles
Plenty of meat-and-three type meals can be easily combined into a casserole to make for a faster, more efficient meal with less clean-up, and still feed your family for about $10. Try combining these traditional favorites for some hearty one-dish meals:
Enchilada Casserole
Most of us love Mexican food, not only because it is delicious, but because it's cheap. You can make your favorite rolled enchiladas right at home, all in one casserole for a low-cost, tasty, easy meal. The recipe we have included here calls for ground turkey, but you can use ground beef, shredded chicken, or go veggie by sticking to beans. Add some slices of ripe avocado to sneak in some super food and knock this meal out of the park.
Down-home Macaroni and Cheese
America's favorite comfort food, with so many tasty recipes. For a great mac and cheese with a creamy rich cheese sauce, and no eggs, it is hard to beat Mueller's Pasta Baked Macaroni and Cheese recipe. Go next level and convert it into an all-inclusive, super kid-friendly casserole by adding pre-cooked green peas and cubed ham. Bon Appetit!
Easy Chicken and Biscuit Pot Pie
It's not an exaggeration to say chicken pot pie from scratch can keep you in the kitchen all day — and most busy families rarely have time for that. But we still love a tasty chicken pot pie. This yummy recipe is a little work but gets you out of the kitchen in under an hour and out of the grocery for less than $10.
Breakfast Casseroles For Dinner
We'll finish off our list of meals for under $10 by suggesting that it can be a lot of fun to turn your day upside down and eat breakfast for dinner. Breakfast can be one of the cheapest meals of the day — so why not let it transform dinner into the cheapest meal on occasion. Kids love it! Peruse your favorite recipes for omelets, waffles, bagels, and breakfast casseroles. Here is a list of great choices from The Food Network.
We hope you've enjoyed our list of meals under $10. When you're tired or rushed, it can be easy to jump in the car and head for the closest restaurant, or grab take-out on the way home. But eating out is one of the sneakiest ways our budget gets away from us. With a little planning ahead, and maybe preparing ahead, you can keep your grocery budget in line and feel good about feeding your family some fun and tasty meals. And you will all reap the added benefits of that critical time around the table that strengthens all families.
At Spero, we pride ourselves on helping you strengthen your financial health (not just your nutritional health). We offer many ways to support you and your family as you make financial plans and establish budgets. We'd love to help you get started today. Call us or come in to one of our convenient branches.