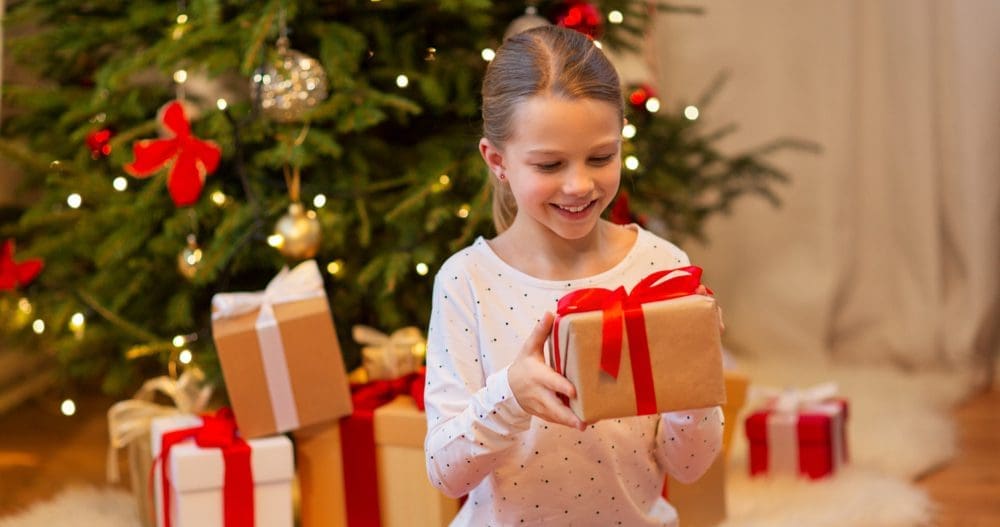 Maybe Christmas, he thought, doesn't come from a store. Maybe Christmas — perhaps, means a little bit more!
This, of course, is the great insight of Dr. Suess' beloved holiday character, The Grinch. And it is an insight that we can and should develop in our children. However, this realization probably won't happen without some effort and direction from us. The holiday season bombards us, and our children, with messages of consumption and pressure to find (buy) that perfect gift. As a parent, you have the greatest influence over your children. Teaching them the true of the "Season of Giving" may be the best gift you could give them and one they can enjoy for a lifetime.
The first key is to teach your children to invest themselves in the process. To give someone a gift is to acknowledge his or her value by sharing something of commensurate value. Of course, we are talking about much more than financial value (though symbolically, it may include that too). Since a present symbolizes care and appreciation for the recipient by the giver, then being intentional about the gift enhances the entire process and experience.
How to Teach Kids the Value of Gift Giving
Here are a few suggestions for how to involve your children in bringing meaning to their gift giving and, hopefully, learning that it is the most fun part of the holidays.
Help your child find opportunities to earn money for gifts
Children too young to earn a standard paycheck can earn money babysitting, mowing lawns, pet-sitting, etc. And if your child is too young for that level of work, set up a system whereby they can earn money doing extra chores at home. Little ones can help more with dishes, pets or yard work. Find something age-appropriate, and set them up for success.  Hopefully this is genuine help and a time savings for you — but even if it isn't, the lesson for your child is invaluable. Giving with money you've earned on your own is more meaningful and an important lesson for children to learn early.
Teach your child how to make a list and budget
In anticipation of the upcoming gift-giving season, sit down with your children and talk through the list of people they want to give a gift to this year. This list doesn't necessarily mean they have to buy every present — more on that later. Assist them in establishing a realistic budget for their purchases. For instance, if Bobby wants to get presents for mom, dad, sister, brother, and grandma, that is five people. He would like to allow $10 per person, so he will need to earn and save $50 for his holiday shopping. You can also make a list of friends and teachers who your child would like to remember with a gift or card. The sooner children experience the process of saving for a goal, the more likely it is to become a habit in their lives. (And for you, Spero's Christmas Club Accounts can help take the stress and worry out of your holiday shopping, too.)
Volunteer together as a family
What a wonderful tradition to enjoy together! Teach your children to think outside the gift box; gifts can also be time and talent—things that do not cost money at all. Select a local organization or a cause that is meaningful to your family and give your hearts and your time to it. If you love animals, there is always work to be done at your local humane society. Feeding, brushing, walking, and socializing with the animals there can be a lot of fun as well as gesture of kindness to the shelter staff. If you are moved to help those less fortunate, volunteer to be a bell ringer at a Salvation Army kettle (singing carols is a good way to keep warm and inspire donations) or serve in your local soup kitchen. Not only will volunteering allow your kids to have fun and give without needing money, it will help nurture empathy and compassion in their characters while giving parents the chance to be a positive role model for their kids.
Here are some of our favorite organizations in the local markets that we serve:
The Upstate Area (Greenville, Spartanburg, Easley, Taylors)
15 Oregon St, Greenville, SC 29605
(864) 233-6565
419 E. Main St, Spartanburg, SC 29302
(864) 573-7684
521 East Poinsett Street, Greer, SC 29651
(864) 968-0323
525 S Academy St, Greenville, SC 29601
(864) 235-3403
4807 Old Spartanburg Rd, Taylors, SC 29687
(864) 990-5693
Greater Columbia Area
2400 Waites Rd, Columbia, SC 29204
(803) 256-3999
1275 Bower Pkwy, Columbia, SC 29212
(803) 465-9150
2220 Shop Rd, Columbia, SC 29201
(803) 254-4432
Senior Resources / Meals on Wheels
2817 Millwood Ave, Columbia, SC 29205
(803) 252-7734
Consider alternative gift giving in someone's honor
What does your child get for the person who has everything? Consider a donation in Aunt Fran's honor to an organization she loves. This option has the twofold benefit of honoring your child's friend or family member while also directly benefiting others in need. There are countless organizations that are set up to accept gifts in someone's honor, both nationally and across the globe. A few great choices are Samaritan's Purse, Heifer Project International, Oxfam, The Water Project, and Mercy House. You and your child may know of others in your local community. Your church or your child's school may have favorites. These organizations provide everything from farm animals to clothing and toothbrushes to safe housing for abused women. Imagine your child's sense of satisfaction and purpose when he can tell Grandma and Grandpa, "I provided a family with clean water for a year in your honor," instead of "Here's $50 I saved up for you."
Encourage homemade gifts
One of the most direct ways to involve children in the gifting process is to help them make their own gifts. There are countless ways to do this. It can be great if it is something you also enjoy making or baking too, because that comes with the bonus "gift" of quality time together. But there are also any number of craft projects, ornaments, or goodies that children can create on their own with minimal set up and direction from you. Brainstorm ideas with your kids that incorporate their gifts, skills, and interests.
The real magic of Christmas is that giving to others is also a gift to yourself. Your children can learn this best from experiencing it for themselves. This applies to children of all ages — including the child within you. So try some of these ideas yourself this holiday season as well as helping your children learn these life lessons early. Everyone's heart might just grow a few sizes this year.