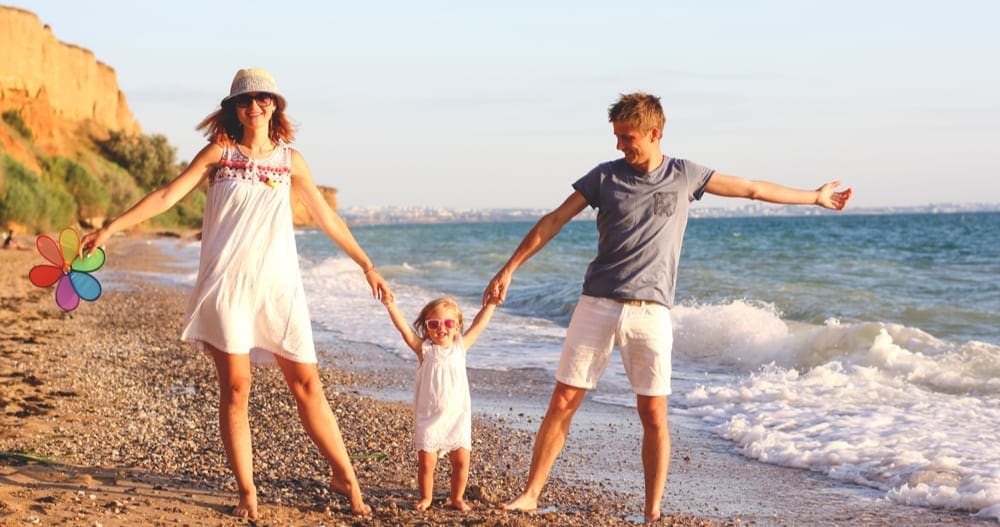 It's almost the time of year when your friends' exotic vacation photos start sneaking their way into your social media feeds. It's been a long year at work and a tough school year with the kids. Your family needs a complete getaway.
There are some occasions when it might make sense to take out a personal loan or use a low-interest credit card to finance a vacation. Perhaps your sister is getting married in an exotic location (you're already there and aren't likely to get the chance again), so you extend your stay for a week. Or, maybe a truly once-in-a-lifetime travel opportunity comes along, and you know exactly how you're going to cut back and conserve cash flow when you return to get the debt paid off quickly.
However, going into debt for your run-of-the-mill annual vacation is a risky financial decision. While there can be benefits to using plastic to finance that cruise, the interest rates, stressful bills, and potential ding to your credit are usually not worth it. Charging consumable goods (like travel, food, entertainment) is one of the worst ways to use a credit card, unless you know you can pay it back and not carry a balance forward. Fortunately, with some careful planning and realistic goal setting, you can have that much-needed getaway sans the sour reality check upon your return.
6 Ways to Save Money on Vacation
1. Start with a budget, and start saving today.
Instead of paying off a loan or credit card after your vacation, why not cut back and put that same amount, or less, toward saving for a future vacation? Take an honest look at your income and monthly expenses and decide what you can realistically afford to put toward a vacation. Vacation spending should not compromise your savings, your emergency fund, your retirement, or your children's college savings contributions. Look at your discretionary income and decide how much of that can safely be set aside for a vacation.
Next, consider opening a savings account earmarked for your travels. Spero offers a Vacation Club savings account with unique benefits and incentives to help you build for your dream vacation. Commit to making regular, consistent deposits starting this month.
2. Pick a destination based on your budget.
This is the part where many folks work backwards. They choose the destination, pay for what they can, and charge the rest. This approach gets us into hot water. Calculate how much money you will have saved up by your projected vacation date, choose a spot that fits that budget and plan activities accordingly. Consider traveling during the off-season, when things might be cheaper. If this year's vacation is only a modest one because you are sacking money towards debt or living paycheck to paycheck like many Americans, try not to get discouraged. A lot of fun and R&R can be achieved even on a simple vacation, and the money-related stress you won't bring home as a souvenir will make it all worth it.
3. Find sneaky ways to penny pinch to pad your vacation savings.
Most of us, if we take a ruthless inventory of our spending, can find a few holes in our pocket where dollars are leaking out. Look for key places to cut back your discretionary spending in order to increase vacation savings. Take lunch to work a couple times a week instead of eating out (in fact, eat out less, in general, while you're saving). Use a refillable water bottle. Don't buy the new red shoes this year. Postpone major purchases like a new refrigerator or car. Stretch the time between haircuts. All these little tricks add up to big dollars toward your getaway.
4. Know where to skimp and where to splurge.
Your dream destination is not necessarily out of reach if you look for ways to cut costs while traveling. A trip to Disney World doesn't have to mean a second mortgage. Stay in a modest hotel — and maybe in a room with an efficiency kitchen so you can prepare some of your own meals. Carry your own snacks when possible. Consider driving instead of flying. Speak with a travel agent about good deals and using points or miles to save on travel and hotel. Resist the urge to spend big money on needless souvenirs. That 5 foot stuffed Mickey Mouse would cramp your trip home anyway.
5. Pre-plan your vacation online.
Setting an itinerary before you go will not only help you enjoy your vacation more, it can also help you budget and save money. With so many budget-friendly travel websites, vacationers can find airfare, rental cars, lodging, and even recreational activities for low prices. Research on sites such as Kayak, Priceline (Express Deals can save you even more), AirBnB, Groupon, LivingSocial, and StubHub can save you a bundle. You can also research free local festivals and other events that will add a lot to your vacation without upping the price tag if you plan in advance.
6. Consider a staycation.
If you're singing the blues because you realize a getaway is just not in the cards this year, think outside the box — and the beach, or the mountains. Pull together what resources you can, and find ways to create an in-town getaway. There are plenty of ways to take a normal week of living at home and transform it into staying in your own personal AirBnB and playing tourist in your own hometown.
What fun (and often free) outings does your town offer? If you are in the Upstate SC area, your choices are only limited by your imagination! We have beautiful free parks and natural destinations within an hour's drive from most parts of the Upstate. Enjoy a picnic at Caesar's Head State Park or Pisgah National Forest. Find free, family-friendly outdoor concerts like the Summer Concert Series at Furman University. And what's more fun than a minor league baseball game, where there's something for everyone?
To make home seem more like a hotel, resolve to set aside major house cleaning for the duration of your staycation. Use paper plates! Eat out when you can! Pitch a tent in the backyard if that's your thing. Rent movies. Throw a party. There are plenty of good times to be had under your own roof. And don't worry; the beach will be there for you when you are ready.
---
Americans invest a lot of time and energy into their vacations. According to a 2017 survey from LearnVest, many Americans report spending as much as 10% or more of their annual income on vacation, and three quarters of those have gone into debt to cover the costs — to the tune of $1100 on average. So while we might be loving our time away, we are also feeling the effects of some nasty bills on the back end.
If you've never planned ahead for a vacation and you usually find yourself putting them on your credit card, this year is a fine time to start a new tradition. Spero can not only assist you by opening a vacation savings account, but we can offer you superior financial counseling to help you know exactly what steps to take and how much to start saving so that your dream vacation becomes a reality. Call us today or come into one of our convenient branches and let's get those plans underway
This material is for educational purposes only and is not intended to provide specific advice or recommendations for any individual.