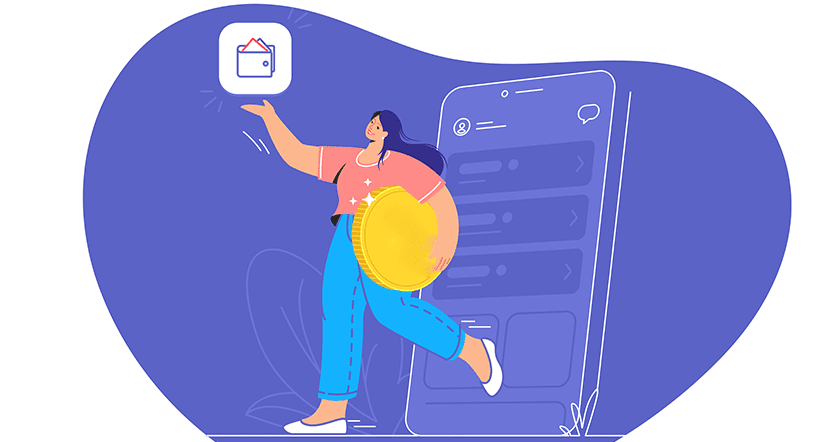 Picture this: You walk into the grocery store to buy your food for the week. After 30 minutes of shopping, you're ready to check out and head home. Once the cashier has finished ringing you up, you reach for your wallet, only to notice it's missing. You left it on the counter at home! Now you're stuck with a cart full of bagged groceries, an impatient cashier, and no way to pay.
Let's be honest. Wallets can be a pain. Whether it's forgetting them when we go to the store or running around the house trying to find them so we can snag an online deal, our wallets are often an obstacle between us and making a purchase. But what if you could make those purchases by simply clicking a button on your phone?
We live in a digital era, so it only makes sense that there would be such a thing as digital wallets. While the idea of loading sensitive financial information into an app on your phone may sound risky, it's highly secure and offers many benefits.
What Is a Digital Wallet?
A digital wallet, or electronic wallet, is a software application or online service that stores an individual's payment information. With today's smartphones, you can store your bank account information, debit cards, and credit cards in a digital wallet, eliminating the need for physical cards. This technology makes it easy to access your money, manage transactions, make payments, and send and receive money from any mobile device.
Digital wallets utilize the wireless capabilities of mobile devices to enable purchases. Using near-field communication (NFC), QR codes, and magnetic secure transmission (MST), you can easily make in-store purchases. For online purchases, many stores are connected with digital wallet providers to allow you to purchase items quickly. When you go to make a purchase, your digital wallet links the payment details from your connected account to the vendor with which the transaction is being made.
Beyond debit and credit cards, you can store membership cards, plane tickets, loyalty cards, gift cards, event tickets, and hotel reservations in your digital wallet. Some even let you keep personal IDs, such as your driver's license, on your phone for easy access.
And while good old-fashioned cash will always have a place, digital wallets mean cash and checks are no longer the only way to pay back your friends. Using a peer-to-peer payment app, such as Venmo or Zelle, you can send money directly to other users of the same app.
How To Use a Digital Wallet
Thinking about using a digital wallet for the first time? Start by choosing a reliable provider. Do your research to find a reputable digital wallet with the features and accessibility to suit your needs. Take into account security, supported assets, and user-friendliness.
Once you've chosen a provider, create a digital wallet account by providing the necessary information. Your digital wallet may require your email, phone number, and a password — all of which help ensure your payment information stays secure.
Speaking of security, be sure to choose a strong password when setting up your digital wallet. One of the primary concerns with digital wallets is the possibility of the mobile device being stolen. With a strong password, your financial information will stay secure, even if your device goes missing.
To add funds to your digital wallet, simply link your desired accounts to the wallet. Once successfully paired, you can make deposits and withdrawals. Some digital wallet apps will even let you organize your assets into different wallets within the same app.
The primary advantage of digital wallets lies in their convenience. You can make purchases without exposing your financial information. Forgot your wallet? No problem. You can still complete the transaction with your mobile device. And if you don't have access to a physical bank, digital wallets facilitate easy money management through online bank accounts.
But for all their advantages, digital wallets raise some concerns among consumers. For starters, they aren't accepted everywhere, so there's no guarantee that every store you shop will accept your digital wallet. Since digital wallets rely on the wireless capabilities of mobile devices, they may not work if Bluetooth and WiFi aren't available.
Addressing Security Concerns
When it comes to your financial information, security should always be a priority. Let's take a look at some common security concerns and how digital wallets work to combat them.
As we mentioned, having a digital wallet on your mobile device can be both a blessing and a curse. If your device is lost or stolen, an unauthorized person could access your wallet. If your wallet has weak passwords or PINs, attackers can easily gain access to your financial assets. Any attack on your mobile device affects all information held on that device, including your digital wallet.
As scary as all that sounds, digital wallets have security measures to protect your financial information. Robust authentication methods add an extra layer of security in addition to strong passwords and PINs. Regularly updating your device's software ensures the most reliable protection against attacks.
We can't stress the importance of choosing a reliable digital wallet provider enough. Only download official apps to ensure you input your financial information into a reputable source. Always verify your provider's identity when you receive unsolicited communications asking you to confirm your wallet information.
Digital wallets usually have advanced security measures to protect your assets against threats beyond your control. They use encryption to ensure your payment information never leaves your device. Digital wallets also use tokenization to replace sensitive encrypted information with a non-sensitive digital equivalent called a token. Unique tokens are randomly generated each time you make a payment. So, your card number is never stored in the app but instead is assigned a unique virtual number. Each of these precautions adds a layer of security. Together, they provide consistent protection you can count on.
The Best Digital Wallets
There are some great digital wallets out there, so look for one that works best for you. Here are a few reputable options we recommend:
1. Apple Pay
If you have an iPhone or an Apple device, Apple Pay is the digital wallet you'll probably use most often. Apple wallets can be used to pay for goods and services through vendors equipped with NFC technology. Numerous online stores and applications are also compatible with Apple Pay, and more merchants are accepting Apple Pay every day.
2. Google Pay
Google Pay is the digital wallet for the Android operating system. It can store credit and debit cards and keeps user data safe. Like Apple Pay, Google Pay works at any location with contactless payment. Google Pay enables fast transactions for Android users but is limited to contactless payment terminals.
3. Samsung Pay
Unlike other digital wallets, Samsung Pay uses both MST and NFC technologies. Users can upload payment information, gift cards, and membership cards. This digital wallet enables Samsung users to make mobile purchases easily but does not facilitate online purchases like other digital wallets.
4. PayPal
PayPal is an excellent option for users wanting to make purchases in foreign online stores. It's recognized by almost all countries and can be linked to both payment cards and bank accounts. Users can also send money directly to their friends. PayPal offers a high degree of security but has a relatively low transaction speed.
5. Venmo
Venmo is a peer-to-peer payment app owned by PayPal. It's a consumer-friendly digital wallet with a social focus and is intended to be a fast and free way to complete personal transactions. Instant transfers require a 1.5% fee, and transactions can be public to app users, causing some privacy concerns, but overall, Venmo provides an easy way to transfer funds between parties.
With a Spero debit card, you can say goodbye to your traditional wallet and hello to digital convenience. Spero debit cards are compatible with Apple Pay, Google Pay, and Samsung Pay to give you easier access to your finances, enhanced security, and the same benefits you get with your physical card. Simply upload your card to your preferred digital wallet to make purchases fast, easy, and secure. See our Digital Wallet page to learn how to get your Spero debit card from your wallet to your phone.