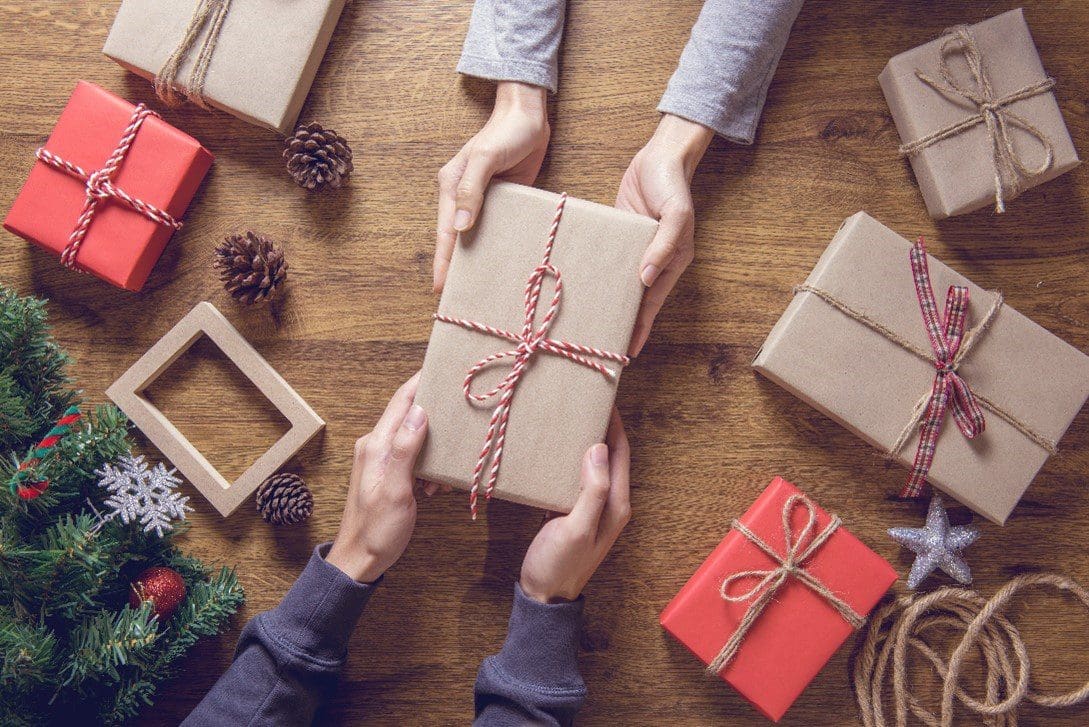 As the Holiday Season approaches, the stress of gift buying quickly follows as we are met with the need to satisfy society's gift giving standards. These few months at the close of the year quickly turn from focusing on family gatherings and Holiday celebrations, to frantic gift buying for family and friends.
The holiday season has become synonymous with gift giving - which by itself is not a bad thing at all! However, the joy of gift giving can easily be overtaken with the monetary resources it demands or an unnecessary need to meet the gift standards of our society - cue holiday stress.
While tradition tells us we must buy trinkets and toys for those around us, there is an alternative way to approach gift giving this season that doesn't involve last minute mall runs, Amazon boxes piled high on the front porch, and financial stressors! Continue reading for a list of ways you and your family could consider thinking outside the "gift box" this holiday season.
1. Find local charities or organizations that run specific holiday gift giving programs.
If you and your family want to continue the holiday spirit, consider getting more information on charities and organizations in your community that offer different types of Christmas programs. Oftentimes these programs are great ways to involve children in the process, as they are able to experience shopping for another child their age, and even give a gift they may want themselves to someone else!
A few to consider:
The Salvation Army's Angel Tree Program: Each year the Salvation Army provides Christmas gifts to children in local communities. The organization offers many ways to get involved with this program from simple monetary donations, to adopting a family, to volunteering time. Keep in mind that to apply to adopt a family, you must be a resident of the county in which the Salvation Army resides. Reach out to your local center for more information.
Toys for Tots: Each year the Toys for Tots program offers multiple ways to get involved! Most of us have probably seen a Toys for Tots donation bin in our local grocery store that allows community members a place to donate new, unwrapped toys. Beyond these bins, Toys for Tots lists multiple ways to donate monetarily on their website.
2. Consider donating or volunteering for local food banks or meal service organizations.
A fantastic way to get the entire family involved is by going to shop or volunteer for a local food bank or meal service together! These types of organizations are typically scattered in local communities so do a quick search for "food bank volunteering near me". You should find a list of organizations to get started with your search! Do keep in mind that some food banks and meal service may have age restrictions on volunteers due to safety precautions, so it is always best to research before you go!
A few options to consider:
Meals on Wheels: There are many local Meals on Wheels locations that benefit from monetary donations, meal prep volunteers, and delivery route drivers. Reach out to your local community's Meals on Wheels to learn how you and your family can get involved!
Harvest Hope Food Bank: This organization serves the Upstate and Midlands and offers multiple ways to get involved! With Harvest Hope, you can become a volunteer, give monetary donations, donate food, and even host your own food drive.
3. Consider getting involved with a charity or organization that you believe in!
Organizations and charities don't have to have a holiday specific program to get involved during the holiday season! Consider sitting down with your family to discuss the things that matter most to you. Once you've discovered the needs and missions that are most important to you and your family, research local ways you can make a difference. By doing it this way, the entire family can rally behind the organization they are most passionate about and figure out the best way to make an impact - whether that be donating time, donating money, donating materials, or some other form of involvement!
4. Look to the community around you and consider meeting a need that you see!
This is a fantastic way to encourage your family to become more aware of the community around them and considerate of the needs of others! If you have children, you could begin by asking them to pay attention to their peers in school, at sports practices, or anything else they may participate in. Remind them that this is not something that should encourage them to judge those around them, instead they should be looking for ways they can make someone else smile!
Maybe their teacher could benefit from a mid-year supply restock or a friend at school just got a new sibling and their parents could benefit from a care package and meal. Maybe you know of a co-worker whose spouse is sick who would appreciate a meal or a heartfelt card! The possibilities are endless with this option. Plus, it allows each member of the family to make a personal decision that they could see through to the end!
While this list isn't exhaustive, it is a great start to begin discussing alternative gift giving options this holiday season! Whether you have children or not, there are endless possibilities to switch up the way gift giving looks this year. Afterall, one of the greatest gifts we can receive is the joy that comes with giving.
---
This material is for educational purposes only and is not intended to provide specific advice or recommendations for any individual.