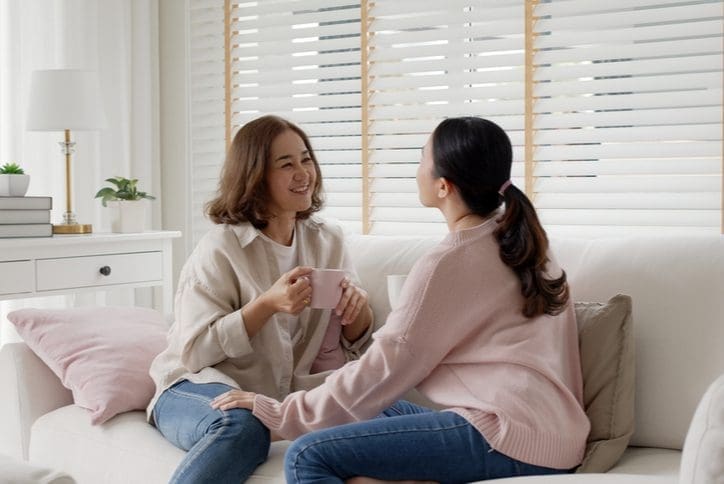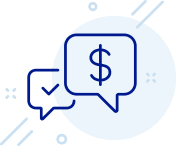 Have you and your parents had "the talk"?
The talk that we are referring to is the conversation about your parents' finances. Each stage of life requires a different financial plan. As your parents age, it is beneficial to talk with them about their financial future. In a recent study, the Insured Retirement Institute found that 73% of adults have not had a money-related discussion with their parents because they're not sure how to have this critically important — and potentially awkward — discussion.
This article explains why finances are a crucial conversation that you shouldn't wait to have with your parents, shows you how to approach the discussion, and suggests topics you should cover when talking about finances.
Why You and Your Parents Should Talk About Money
You may be wondering – why should I talk to my parents about their finances? It's none of my business. Why do I need to have this conversation in the first place?
If this is your initial reaction, you're not alone. The Insured Retirement Institute study also revealed that 22% of adults don't think a financial conversation with their parents is a good idea because it is not their business. However, this is a misconception. At some point, your parents' finances will become your business, especially if you are responsible for handling their financial matters after they pass.
Obviously, this is not a scenario that someone wants to dwell on, but it's much less burdensome to discuss future finances and formulate a plan proactively than to figure things out on the fly in a crisis scenario. It is also better to have this conversation with your parents while they are in good health and of sound mind. Waiting to discuss finances when a parent becomes ill or when their memory starts to fade can add another layer of unnecessary stress during an already overwhelming time.
How to Approach Talking About Money with Your Parents
Initiating the conversation may be the most challenging part of talking with your parents about money. One way to make this task easier is by asking your parents broad questions about their retirement plans. This gives you a natural way to ease into the topic, which is always better than jumping right into a discussion about their finances. If you have siblings, it can also be beneficial to get their input on how they would approach the conversation.
An important thing to keep in mind when initiating this financial talk is being clear about the intent of the discussion from the beginning. Make it known that this conversation is coming from a place of care, not out of judgment or condescension. Listen more than you speak, and let them know that you want to talk about this because you have their best interests in mind.
4 Financial Topics to Discuss With Your Parents
When going into a potentially uncomfortable financial discussion, having a game plan can make the conversation easier for both you and your parents. Below are a few essential topics to cover when talking about finances and future plans:
1. Will and Estate Plan
A will and estate plan determines what happens to your parents' assets after they pass. Having one of these plans in place makes managing these assets much easier on the surviving family members, especially on a surviving spouse. Figuring out who gets which assets is not the primary concern; making sure there's a thoughtful plan in place is the most important part.
Need help? Check out these 6 Estate Planning Tips
2. Paying Off Debt
If your parents are in debt, it's nice to know if they have a plan for getting out of debt. This can be a particularly sensitive topic, so it may require a different approach. You may want to talk about your own experiences with debt and encourage them by highlighting the benefits you've seen by getting out of debt. If you want to keep the focus off yourself, you could also use examples from other friends and family members. But no matter what approach you take, it is crucial to handle the topic with sensitivity and a commitment to keeping the lines of communication open.
3. Assisted Living
Assisted living is a touchy topic. Convincing a parent who has lived in their own home for decades to move into an assisted living community is no easy task. Knowing when the time is right is a large part of the battle, so having this conversation while your parents are still independent can be a good thing. They don't want to burden you and your siblings with potentially poor health in the future, and you don't want to make them feel uneasy in a new place. You can eliminate much of the awkwardness by finding a facility with good reviews, fun activities, and excellent staff. If your friends have parents in assisted living, ask for some opinions and reviews on your area's top assisted living communities.
4. Long-Term Care Insurance
Quality assisted living facilities and retirement communities can be pretty expensive. Fortunately, long-term care insurance can help cover some of these costs. For parents with chronic medical conditions such as Alzheimer's disease, long-term care insurance can make assisted living a more affordable option. As with other financial topics, this can be a challenging conversation because nobody likes to talk about the possibilities of declining health. However, the sooner you discuss potential scenarios with your parents, the more likely you are to have a well-reasoned conversation that leads to a thoughtful decision.
Few things are more awkward than starting a financial planning conversation with the people who taught you about finances in the first place. Having the financial talk with your parents can be intimidating, but it is a necessary conversation that will benefit everyone in the long run. Approach the discussion with compassion and a clear game plan, and you may find that it's not as uncomfortable as you thought it would be. Once you have a strategic plan in place, you'll find that it frees all of you from worrying about what will happen in the future.
Need assistance with financial planning for your parents' future? Talk to a Spero representative – we are here to help you navigate finances for any stage in life.
---
This material is for educational purposes only and is not intended to provide specific advice or recommendations for any individual.