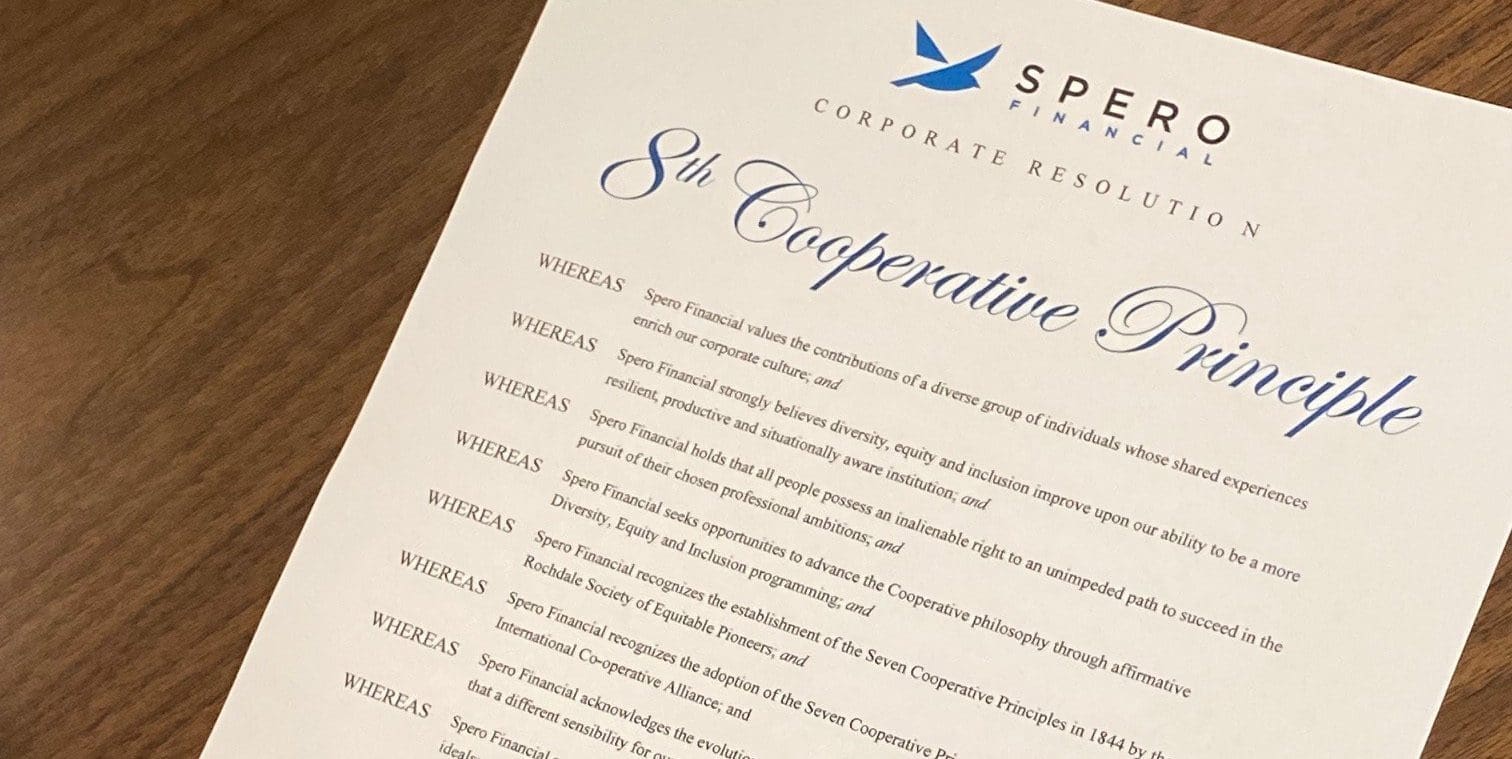 Greenville, SC - Today, Spero Financial announces the execution of a resolution supporting advocacy to add the 8th Cooperative Principle of Diversity, Equity, and Inclusion (DEI) for cooperatives worldwide– signifying the organization's commitment to furthering diversity, equity, and inclusion.
In December, during the 33rd World Cooperative Congress, the International Co-operative Alliance (ICA) will hold a vote that will determine the approval of DEI as a Cooperative Principle. Three organizations have joined together - Local Government Federal Credit Union, Civic Federal Credit Union, and the African-American Credit Union Coalition (AACUC) to advocate for the proposed addition of an 8th Cooperative Principle that would focus on diversity, equity and inclusion (DEI). The website, DEI Talks, invites other credit unions and cooperatives to adopt the 8th Principle and demonstrate their support.
As a financial cooperative, Spero Financial upholds the 7 Cooperative Principles originally penned in 1844 and adopted by the International Cooperative Alliance (ICA). These worldwide cooperative principles act as guidelines used by all cooperatives to put their values into practice: self-help, self-responsibility, democracy, equality, equity, and solidarity.
"Since the origins of the 7 Cooperative Principles, we have experienced much change in our world and culture. Through the adoption of the 8th Cooperative Principle, we are showcasing our continued commitment – in conjunction with other credit unions and affiliates – to having conversations and applying change to propel diversity, equity, and inclusion forward." 

PRESIDENT/CEO of SPERO FINANCIAL Brian McKay
McKay continues, "In addition to signing this resolution, we've participated in the Filene Research Institution's DEI Practices and Policies Survey to examine areas of opportunity to enhance our performance in furthering DEI efforts in both our organization and industry as a whole.
By signing this resolution, Spero Financial is publicly declaring its commitment to celebrating diversity in the workplace and continually evaluating areas of opportunity to ensure a culture where every employee feels that they can bring their entire, authentic self to work each day.
About Spero Financial
Spero Financial Federal Credit Union was chartered in 1935 as a not-for-profit financial cooperative with one mission: to improve financial lives. As one of the Palmetto State's largest credit unions, today, it has more than 58,000 members and $549 million in assets. Headquartered in Greenville, South Carolina, the credit union's footprint spans the Upstate and Midlands with branches in Anderson, Easley, Greenville, Simpsonville, Spartanburg, Taylors, and Columbia.