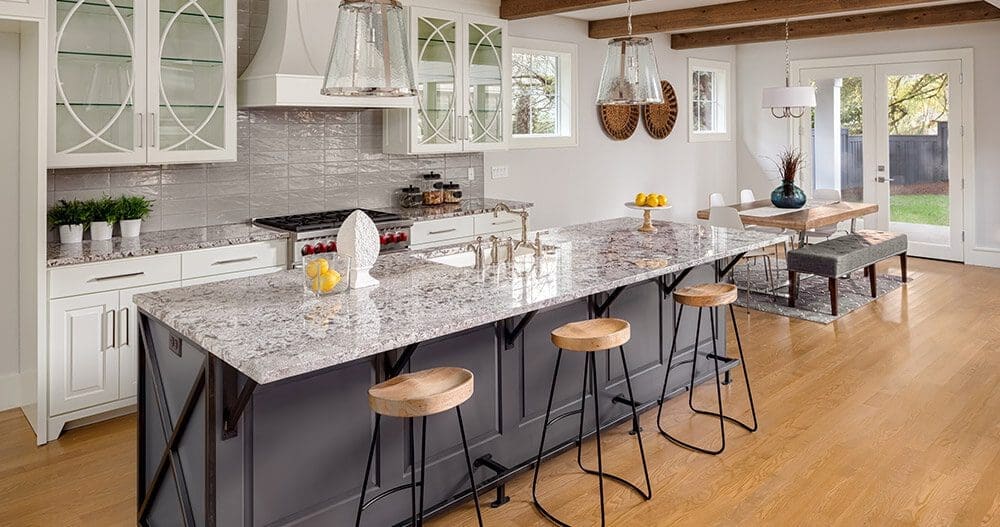 Americans' passion for home renovations is bigger than ever. A 2019 study by Trulia showed that approximately 90 percent of all homeowners are considering a home renovation of some kind. Of that 90 percent, half of the homeowners indicated they are working with a budget of around $5,000, and 20 percent are planning to spend $10,000 or more. Meanwhile, Zillow's Consumer Housing Trends Report showed that roughly three out of four people would rather save up to renovate their current home than buy a new home.
It shouldn't be a surprise to any of us that refurbishing home spaces is big – a big commitment both in time, money, and other resources. But if you are up for the challenge (we're cheering you on!), it is important to know how to budget for the project. You may even be wondering if it's even possible to manage a home overhaul without breaking the bank. It absolutely is! It just takes a little planning. Read on for our take on how you can get ahead of your next big home project and stay within budget.
8 Simple Steps to Plan a Budget-friendly Renovation
1. Select the project.
If you're like most homeowners, you probably have more than one thing you want to change. If this is the case, the first thing you need to do is figure out what project you are going to tackle. In the Trulia study, the numbers were pretty clear. Almost 50 percent of those surveyed wanted to modify their kitchen (between $12,000 and $33,000 investment), while another 45 percent had their sights set on the bathroom ($6,000 to $14,000). But the real question is: What is it that you're wanting to gain as a result of the completed renovation? If you're upgrading your home to put it on the market, you'll want to focus on home renovations that provide the best return on investment. You may also decide to complete the project in order to make you happy, fill a life's need, or give you more usable space.
2. Set your budget.
Once you've determined what project you're going after, you'll need to figure out how much you should budget for your home improvements. According to Home Advisor, a typical renovation will cost somewhere between $100 and $200 per square foot. Doing that math is a great place to start. (As a best practice, be conservative in determining the overall project cost – leaving a contingency fund for the unexpected. There is typically always "unexpected costs" in any renovation!) From that calculation, you can determine how much you can afford and how you will pay for it. If you're borrowing for the home renovation, you may consider one of three programs:
Home Equity Line of Credit (HELOC): A home equity line of credit is just that: a line of credit based on the equity you already have built into your home. A HELOC provides you a flexible fund to pull money from as you need it. If your project only costs $3,000 and your line of credit is for $10,000, you can borrow the money you need, only pay interest on what you've borrowed, and maintain access to the additional funds in case you need them at another time.
Home Equity Loan: Also based on your equity in the home, this is a cash-out loan for a fixed amount. You receive all your funds in a lump sum and pay interest on the total amount. There's no dipping back in later for other projects, but if you've budgeted correctly, you should have enough to cover the project you have planned for now.
Cash-out Refinance: Chances are you have equity built up in your own home now, and by refinancing may be able to turn that equity into cold, hard cash. While this option is time-intensive and has extended costs of appraisals and such, there's no additional loan repayment after it's done. Everything is wrapped up in your monthly mortgage payment.
3. Determine the return.
As you finalize what you're going to tackle, consider how much that "upgrade" really does for your space. According to Remodeling Magazine's 2020 Cost vs. Value calculator, adding an extra bathroom may cost around $45,000, but when it's all said and done, that addition is only worth an additional $24,000 on the market. Now, if you're really in need of an extra bathroom, then, by all means, grab the sledgehammer and go to town. But if, for example, you're also considering replacing your garage doors as an alternative project, you'll get a 95 percent return on those renovation costs. What are some other home improvement projects that may provide big returns? Replacing siding, adding a stone veneer, or building a new deck. But with all this said, it really comes down to how you define return/value. It may not be "returns" in the form of dollar signs but in the joy it brings to your day to day life or meeting a need for your family!
4. Prioritize needs.
There's a good chance your budget won't allow for the caviar dreams that rest in your mind, but with prioritization and price shopping you can probably get pretty close. Make sure you take a look at the things that are truly important to making the project successful, and budget for them first. Then, as you progress, you can add the smaller options and upgrades back in if you still have room in your budget. Above all, do your research to make sure you're getting the best price possible.
5. Make a plan.
Once you have your budget in place and know the project "musts," you can set a plan of action. What resources will you need? Will you DIY (do it yourself) or hire a contractor? What tools or materials will you have to buy or find in order to make your vision come to life? And last (but definitely not least), how long will the project take? If you know you're going to lose a bathroom for a few weeks while it is renovated, you sure don't want that few weeks to turn into months.
6. Get bids.
Once you have all of the above in place, it's time to get things moving! Getting bids is a crucial part of the process — especially if you're hiring a contractor, architect, or outside labor — and one you don't want to skip. Skipping the bid process is setting yourself up to potentially overpay. Remember, you don't have to take the cheapest bid, but you want to make sure that the service provider you hire is competitively priced.
7. Get References.
While you're getting bids, get references! With contractors and vendors alike, there are a lot of things you want to know, and a reference is the best way to find out. Do they show up on time? Do they overprice their work? Will they get the job done on time? Do they work with you to accomplish the project? All of these questions are things you want to know before you write a check. But don't be intimidated — just ask around! Ask your contractor for some of their previous clients, and look for online reviews to find frank feedback. Keep in mind that references shouldn't be hard to find, and if they are, you're better moving on to someone else.
8. Reduce costs.
Keep in mind that your project doesn't have to be an "all-or-nothing" affair. Depending on the scope of your project, you may do part of the work yourself – putting in some true sweat equity – and then turn over the more advanced items to a professional. For example, does a room have to be gutted first? Take a sledgehammer and get in a workout yourself. Or choose to paint when construction is finished. Or even watch a YouTube video to find out how to trim flooring or re-install doors. One note of caution: When it comes to things like electrical, plumbing, or structural framing, consider hiring a professional to ensure the work is completed according to code and all proper permitting and inspections are obtained.
You can reduce costs in other ways, as well. Look for low-cost alternatives. For counters, consider laminate instead of granite or marble. Make price comparisons between hardwood and laminate flooring. Choose silver finishes instead of brushed nickel. Another option, especially for rustic-style renovations, find gently used pieces and parts at a Habitat for Humanity ReStore or home appliance consignment shop. You'll reap huge benefits by using someone's second-hand door, and chances are you won't even realize it's not new.
---
If you need help creating a budget, setting up a renovation savings account, or even getting a Home Equity Loan or HELOC, we offer the financial tools and services you need. Call us or stop by your nearest Spero branch location to speak with one of our member representatives.
This material is for educational purposes only and is not intended to provide specific advice or recommendations for any individual.