Meet Nicole! Nicole Martinetti is the Director of Learning and Development at Spero Financial. Nicole certainly has the experience to back up her current role, as she has held over 21 positions with the credit union! In the organization, she is considered a mentor to many of us, and her off-the-wall jokes keep us constantly laughing. Keep reading to find out a few things that Nicole has learned through her 21 positions and take away a few ideas for your own learning and development!
WHAT IS YOUR FAVORITE PIECE OF ADVICE?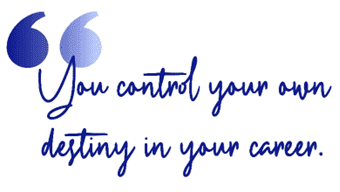 Nicole shared her favorite piece of advice that she has learned over 25 years in the industry. Nicole said, "If you work hard, if you're focused, if you're dependable, and if you're loyal: you'll go far in your career!"
WHAT IS YOUR FAVORITE THING ABOUT YOUR CURRENT POSITION? WHAT MOTIVATES YOU TO WAKE UP IN THE MORNING AND COME TO WORK?
Nicole said that her favorite thing about every position she has held with the credit union is the fact that she feels like she is a part of something bigger than herself! The idea that she makes a difference in the lives of others— in the teams she has been a part of and members. She also says that there is always a new challenge, and she enjoys putting herself in the midst of them! She shared, "I never want to be complacent or comfortable." She shared that there are missed opportunities if you don't put yourself out there!
WHAT IS ONE THING YOU WOULD TELL YOUR 25-YEAR-OLD SELF IF YOU KNEW THEN WHAT YOU KNOW NOW?
Know your own value.
Never let someone tell you that you can't achieve something.
Work hard in the face of adversity.
Never be the leader that discourages someone else's dreams. Make sure you affirm to them that it is in their control.
Be authentic— don't let others take advantage of you.