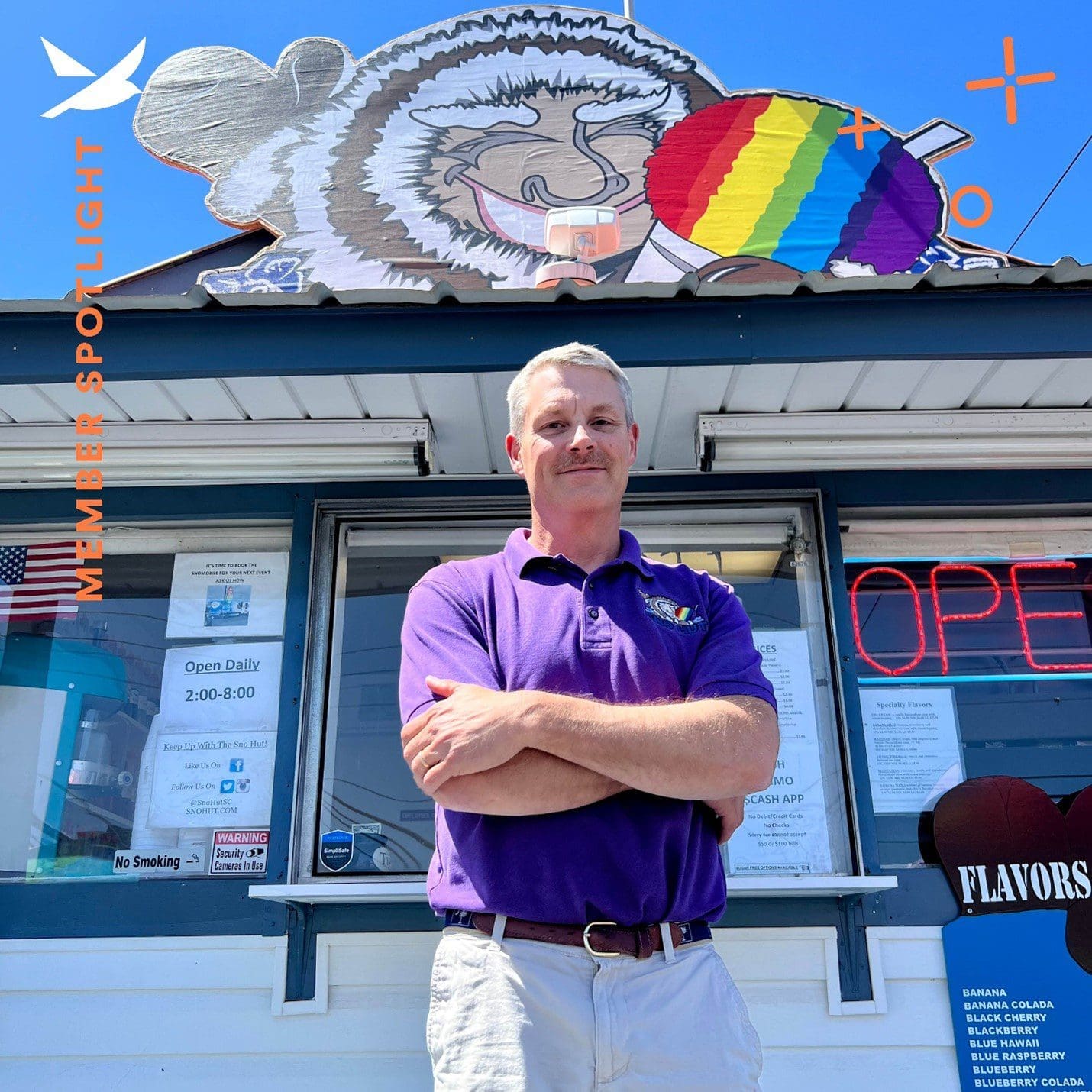 Summer is right around the corner! That means big temperatures, big plans, and big treats. Do you know what else is right around the corner? Sno Hut! Which, in our opinion, is one of the best treats you can find in and around Greenville. While it may be 95 degrees out, you can still find "sno" all summer long at Sno Hut, a local shave ice business with multiple locations and one that even moves! We sat down with Sno Hut owner and Spero member, David Bishop, to learn a little more about his journey as a small business owner.
HOW LONG HAVE YOU BEEN A BUSINESS OWNER?
David and his wife, Lisa, have owned Sno Hut for 13 years! They are the second owners of the shave ice business and the story of how they ended up here proves that it was meant to be.
When asked to share the story of Sno Hut and why he got into this business, David pulled in his wife, Lisa, to share the story! She started with a sigh and a laugh but then shared their story from the beginning. David and Lisa both share a restaurant background, but after they got married, they decided they were interested in getting into concessions— where they would be able to travel to festivals and offer typical festival food. While they began to pursue a career in festival concessions, David and Lisa found out it wasn't the right time for them as traveling became an obstacle with children still in school. In the middle of this transition, David and Lisa had a friend who knew the original owners of Sno Hut and, long story short, David and Lisa took over Sno Hut when the original owners decided to sell.
As they shared of this phone call that turned into a business deal, David said, "Sometimes God puts things in the right place at the right time." This phone call eventually led to a fun opportunity to own and run a seasonal business that holds a sweet spot with all generations!
WHAT IS YOUR FAVORITE THING ABOUT OWNING SNO HUT?
The people! David shared a few stories of the people they have met along the way and said, "It's just been fun!" David and Lisa shared about the generations that came as children who are now bringing their own children and grandchildren. While the grandparents are bringing their grandchildren, you best believe they are getting their own taste of childhood at the same time! Those who came years ago often tell David how surprised they are that their favorite flavors taste exactly the same as they did 30 years ago! David said a military serviceman visited Sno Hut after arriving home from deployment and was shocked but happy that the Tiger's Blood flavor never changed while he was gone.
David and Lisa continued to share stories of newlyweds making a pit stop at Sno Hut before going to their reception and a mom who stopped in on her way to the hospital to give birth and on the way back with her baby! David said, "We've been here a long time, we've met so many people, and it's been so fun."
WHY DID YOU CHOOSE SPERO AS YOUR FINANCIAL INSTITUTION?
Fun fact: the Taylors Sno Hut is only about 20 steps from Spero! While there are other factors that played into his decision, David said it wasn't too hard to choose Spero, especially since there is the simple convenience of walking over to the branch to handle any transactions. David said the ease and accessibility of having a branch right next door makes depositing cash and getting change for the busy weekends a breeze!
While the convenience is a plus, David shared that one of the initial reasons he chose to have his business accounts with Spero is because he knew a former teller. When thinking back to his interactions with her he said, "trusting who you do business with is important." While that initial trust drew them in, David and Lisa have continued to build trust with Spero and say that the friendly and fun relationship they have built has kept them here! David shared stories of walking into the branch to be greeted with smiling faces and members of Team Spero visiting the Sno Hut to pick up a few treats for branch staff during the summers.
David said, "I've never gone in there when everyone wasn't smiling or laughing or having a good time."
So, this summer, make sure you stop by one of their locations in Taylors or Greer and if you see the Sno Mobile, be sure to visit! You can find more information about Sno Hut by visiting their website and by staying up to date on their social media posts. Also, be sure to be on the lookout for how Spero members can see the Sno Mobile visit various branches throughout June and July!