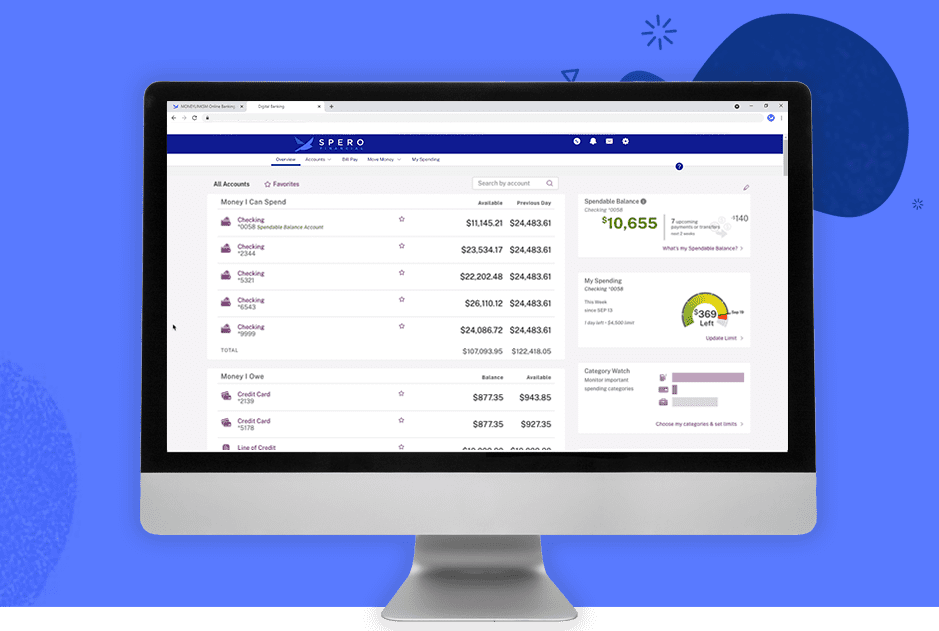 We have exciting news! On October 24th, we will be upgrading the look of MONEYLINKSM Online Banking and adding new features.
What do these changes mean for you and how will you benefit?
A newly designed Overview Accounts page.
A variety of new options to make your experience more personalized.
New features providing faster access to current information.
What actions do you need to take? None!
No new Access ID or Passcode will be required.
There's nothing for you to do - the new look and features will automatically appear the day of launch.
Scroll down for all the details about current feature changes and other exciting new features.
Because of the upgrade, MONEYLINKSM Online Banking and Mobile Banking will be unavailable from 1AM – 5AM on Sunday, October 24, 2021. Once the upgrade is complete you can log in with your current Access ID and Passcode to start enjoying your new features and the enhanced experience!
Will there be any new features? Absolutely!
We are adding to the list of features you currently have with tools that make accessing account information easier – plus, adding features that better personalize your Online Banking experience. Here are some of the new features coming your way:
Widgets & Personalization: Manage your account overview page to display the information most important to you!
QuickView: Use the new QuickView option to easily see which transactions have recently cleared; plus, have the option to conduct other account actions – all from the overview page.
Outside Accounts Favorites: Want to expand your list of Favorites to include your Outside Accounts you are syncing...now you can!
Will there be any changes to current features? Yes!
Let's look at the pages you use often and what will changed.
Overview Page: Previously labeled the HOME page, this is now titled the OVERVIEW page. It provides you access to additional new features such as personalizing widgets and QuickView.
QuickView: On the Overview page simply mouse over an account line, and on the right side you will see an "˅" icon you can click and expand the info allowing you to see the 5 recent transactions and other account actions.
Widgets: Personalize your Overview page by hiding/changing the order of several widgets to see the information you prefer to see each time you log in. Select the "pencil" icon on the right side of the Overview Page.
Accounts Page: Your account primary balances will now be at the top of the page. View MORE DETAILS on your account by clicking the link beside the account number on the left side.
Services and Settings: Click the "gear" icon at the top of any page and you will see all options available!
Contact Us: Click the "phone" icon at the top of any page and get our contact information.
Other questions you may have...
What will happen to services like Mint.com, etc.? Our Online Banking provider is working closely with these third-party aggregate sites to notify them of the upcoming changes. These third-party sites scrape data on behalf of the end user, so it may take a few days post launch while these companies adjust their tools in response to the changes.
Will there be any impacts to Bill Pay? No! There will be no changes to existing bill payment services.
If I have synced Outside Accounts and setup Favorites, will these be impacted? No! Synced outside accounts, nor Favorites will be impacted, and will carry over as-is with the release.
Will the MONEYLINK Online Banking enhancements carry over to the Spero Financial Mobile App? No! The upcoming enhancements will not include any changes to the Spero Mobile App.