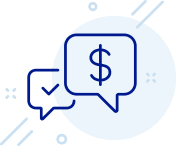 We've been moving toward a cashless society for years. Thanks to direct deposit, credit cards, and debit cards, most of us have been able to earn a living and pay for expenses without handling a single piece of currency. But social transactions like splitting a check at dinner, buying something at a yard sale, or sending money to a family member, those still require cash, right? Not anymore.
Mobile technology and peer-to-peer (P2P) payment apps like Venmo, Cash App, and Zelle® are changing how people exchange money. In fact, there's a good chance you're one of the millions of Americans who have sent or received funds through these apps—especially since 81 percent of poll respondents used cash apps more since the beginning of the pandemic. And even though you can't deny the convenience they offer, you may be wondering which app is best and whether they're safe to use.
Since your money is on the line, those are important considerations. Let's dig a little deeper.
Venmo vs. Cash App vs. Zelle: A Side by Side by Side Comparison
Since all three apps allow users to quickly give and receive money with nothing more than a few taps on a screen, let's start with the obvious similarities.
Venmo, Cash App, and Zelle are all peer-to-peer mobile payment apps that allow users to transfer funds from a linked bank or credit union account to another recipient.
All three apps are available for free on iOS or Android.
Each is free to download and use. Fees are only assessed when funds are cashed out.
All three are incredibly popular.

Cash App: 30 million users
Zelle: 15.1 million users

All three are now subject to federal reporting requirements, and will be reporting any income payment of more than $600 received through the app to the IRS.
With so much in common, it's easy to see why people aren't sure which app is the best choice for their financial exchanges. To find a clear distinction, let's look at the primary differences.
Venmo and Cash App allow you to carry a balance in the app.
Zelle ties directly to a bank or credit union account and funds are transferred directly to and from that account.
Cash-out fees (charges to transfer funds from the app to your bank account) vary.

Venmo: 1.5% fee, with a minimum of $0.25 and a maximum of $15 for instant cash-out

Cash App: 1.5% fee, with a minimum of $0.25 for instant cash-out
Zelle: No fee for cash-out, as funds are deposited directly into your account
Venmo's platform features a more social feel, allowing users to share messages detailing what they've spent their money on.
Venmo now offers a Debit card option, allowing users to carry a physical card for their account and use ATMs.
Cash App offers a physical Cash Card that can be used to withdraw money at an ATM. Users can also buy and sell Bitcoin directly from the app.
Zelle can be downloaded as a stand-alone app or as part of a participating bank or credit union's mobile app.
At this point, you might have a clear favorite. Then again, maybe you don't. If you're like most people, you'll probably wind up choosing whichever app your friends and family use most often. Because let's be honest, if your grandmother wants to send birthday money through Zelle, you're probably not going to demand she switches to Venmo before you accept the gift. But whether you use one app exclusively or keep all three on your phone just in case, security is likely your primary concern. And rightfully so.
Is Venmo safe? Is Cash App? What about Zelle?
As with most of the influential players in the world of financial technology, Venmo, Cash App, and Zelle have all experienced their fair share of security challenges along the way. To their credit, all of the app designers have taken essential steps to address those early problems, to the point that Consumer Reports recently rated them all safe to use. From data encryption and purchase verification to multi-factor authentication and fraud protection, each of the leading payment apps offer enough safety features to keep your financial data safe. However, you have more control over your peer-to-peer payment security than you realize.
As part of their review, Consumer Reports offers the following tips for ensuring maximum security for your digital transactions:
Only use these apps with friends or family you trust.
Set up extra security. Be sure to opt-in and enable PIN or fingerprint confirmation.
Make sure to get all recipient details correct. App servicers don't issue refunds for money sent to incorrect recipients.
Do NOT use peer-to-peer payments for business purposes.
Learn the app's customer service contact information and procedures before using the app.
Keep your app up-to-date. Older versions are more susceptible to hackers.
For even more security enhancing tips, visit the Federal Trade Commission's consumer information page.
---
At Spero, we pride ourselves on offering services and solutions that are as safe as they are convenient. If you have specific questions about your financial security or whether you can use mobile payment apps with your Spero account, call us or speak with a specialist at one of our branch locations today!