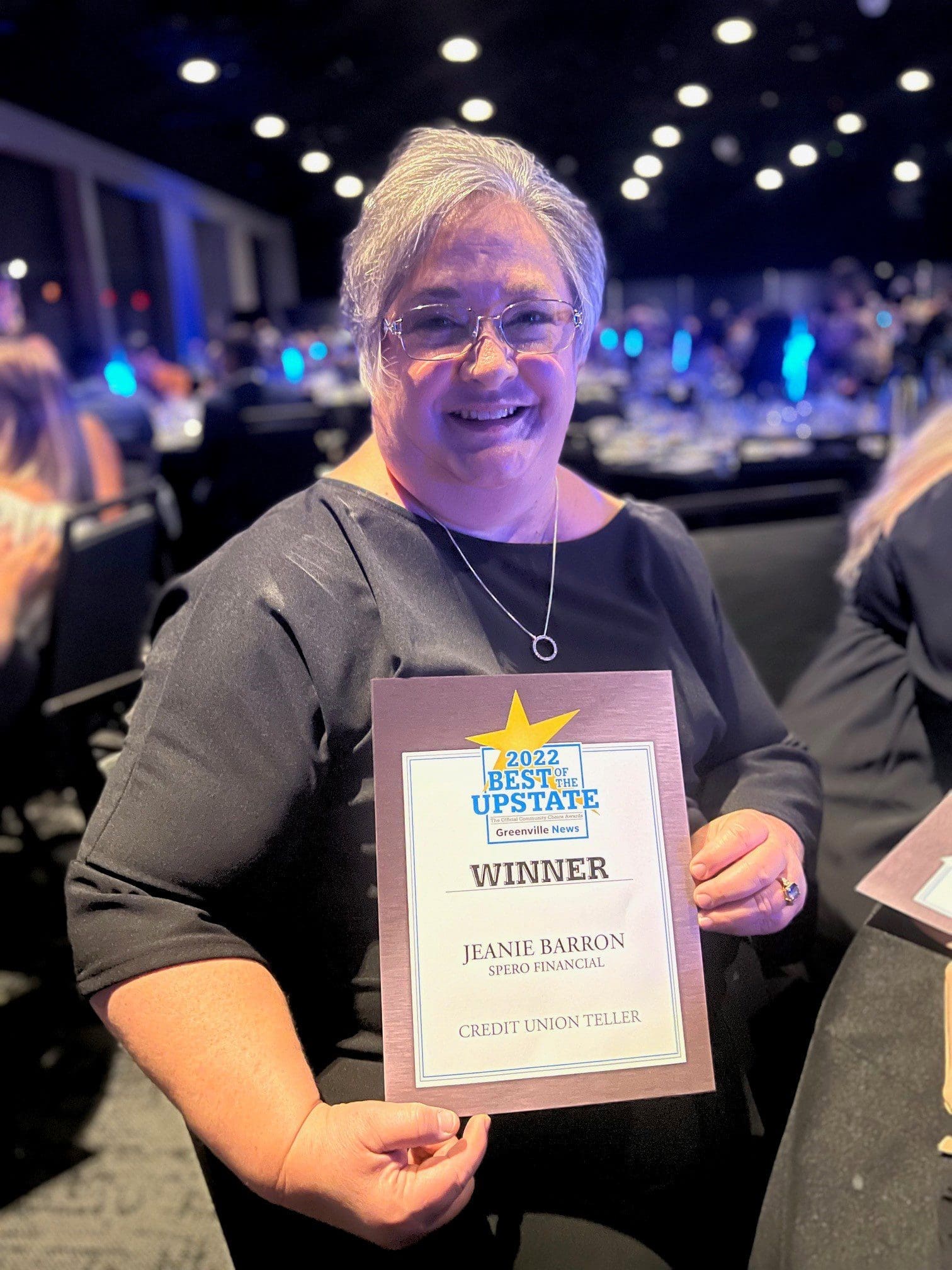 Greenville, SC – Spero Financial Teller Jeanie Barron has been named the Best Credit Union Teller of the Upstate. The Greenville-headquartered Credit Union also was named among the top three Best Credit Unions in the Upstate for the third straight year.
When learning of her nomination, Jeanie responded "Y'all completely blew my mind! I'm truly honored." Upon being announced the winner at the award gala this past Friday, Jeanie was left speechless!
Spero Financial President and CEO Brian McKay stated, "What an honor it was to watch Jeanie win this award after working together for 17 years! There is no one more deserving, and the members that Jeanie has served have known that for a long time. I am thankful to be a part of an organization that prioritizes truly knowing our members, and Jeanie has done just that with each member who has visited her at the teller line."
Jeanie has been part of Team Spero (then SC Telco) for 33 years – serving members since May 8, 1989. She has worked in all areas of our credit union from accounting to call center to training to teller. Most recently, she was promoted to a TellerLink Representative - serving members on the credit union's newest technology that couples the convenient access of an ATM with that of personalized teller service via a live video feed.
When asked about her favorite part of her role, Jeanie unsurprisingly shared that she loves interacting with Spero members and teammates and thinks of them as extended family members!
Best of the Upstate recognition is awarded by the Greenville News and is decided based on submissions and community participation through a voting process. This annual program is designed to celebrate and recognize the best the community has to offer in all categories of business. All category winners were recognized in a special print and online section of The Greenville News along with an awards ceremony and dinner on July 29th.