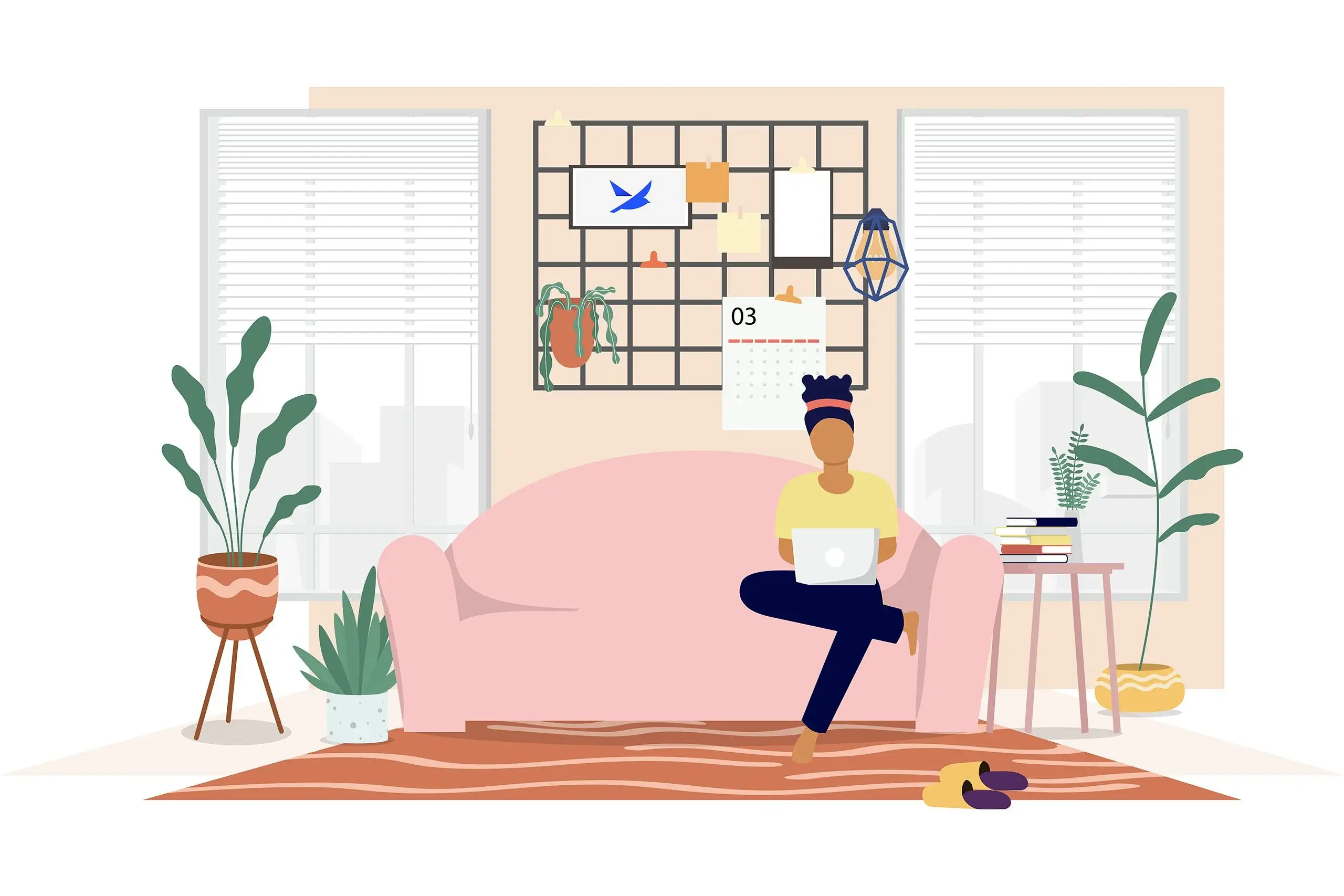 You've just purchased a new house, and your head is flooded with all of the possibilities that this new abode holds. That extra bedroom could be an inspiring home office, the sunroom would be a perfect place for your morning coffee, and just imagine all of the gatherings you could host in the living room!
To turn this house into a home and make it yours, one of the most important things you'll need to find is furniture. If you aren't already familiar with the average price of furniture, the cost of furnishing an entire home can come as a shock, especially when you've just purchased a house. If you're in the market to furnish a home, read on to learn more about the average cost to furnish a house, how to create a furnishing budget, the cost breakdown by room, and tips on saving money when buying furniture.
---
Average Cost to Furnish a House
The average cost to furnish an entire house can vary greatly depending on the size of the house, whether the furniture is new or used, which pieces you already own, and whether you decide to buy from a high-end or standard retailer.
Although there are many factors to take into account, it does help to have a starting average to get an idea on what you might be spending. According to Design Idea, the cost to furnish a three bedroom, two bathroom 2000 square foot home can cost up to $75,000. This is quite a hefty price tag, as it assumes that all of the furniture purchased is brand new from a retailer, and that you don't already have some pieces of furniture to contribute to the home. However, do not fret! There are things that you can do to create a furnishing budget that's right for you.
Creating a Furnishing Budget
There's no need to go into debt furnishing your home, so it's important to create a budget that is realistic for you to follow. It is also good to know what to include and not include in your budget. Items that should be in your budget include pieces such as furniture, rugs, artwork, decor, and light fixtures. Items that you should leave out are things like paint, cabinets, flooring, electronics, and appliances, as these should be included as part of the home purchase or build cost. Knowing this, you can more easily structure a budget that includes everything that you want and need.
Another thing to consider is that it might not be necessary to purchase every item in your budget at once. There are some things that you'll probably need sooner rather than later, such as a bed or a table and chairs. However, you may find that you can wait on purchasing artwork and decor until a later date. By doing this, you can lessen the financial burden on yourself that you would experience when buying everything on your list all at one time.
Cost Breakdown by Room
The thought of furnishing an entire home can be overwhelming, so let's break it down by room! Below, we've listed some of the essential pieces to consider purchasing for each room in your home. The following sample budgets assume that all furniture is purchased is brand new:
Living Room: $970 - $10,300+
Sofa: $300 - $3,500 +
Coffee Table: $50 - $2,000 +
End Tables: $100 - $1,000 +
Lamp: $20 - $500 +
Area Rug: $100 - $1000 +
Artwork & Décor: $100 - $2,000 +
Curtains: $300 per set
Total Cost: $970 - $10,300+
Bedroom: $1,070 - $10,400+
Bedframe: $100 - $2,500 +
Mattress: $200 - $1,200 +
Nightstands: $100 - $500 +
Bedroom Lighting: $20 - $1,000 +
Dresser: $150 - $2,000 +
Area Rug: $100 - $1,000 +
Artwork & Décor: $100 - $2,000 +
Curtains: $300 per set
Total Cost: $870 - $9,300
Dining Room: $590 - $5,500+
Dining Room Table: $200 - $3,000 +
Dining Room Chairs (per chair): $40 - $200 +
Area Rug: $100 - $1,000 +
Lighting: $150 - $300 +
Artwork and Decor: $100 - $1,000 +
Total Cost: $590 - $5,500
Patio / Outdoor Space: $330 - $2,200+
Patio Set: $300 - $2,000 +
Decorative Lighting: $30 - $200 +
Total Cost: $330 - $ 2,200
Based on these estimates, you could furnish a home with three bedrooms, a living room, a dining room, and a patio area for anywhere from $5,100 to $49,200. Even on the low end, furnishing an entire home can still be pretty expensive. Luckily, we've got a few tips to cut down on that cost so that you can save money.
Tips for Saving Money on Furniture
Making your home feel like "you" doesn't have to break the bank. Take a look at some of our best tips to fully furnish your home without taking a dent out of your wallet.
Thrift Your Style: Your local thrift stores may be hiding a hidden gem! Take some time to look through second-hand stores in your area to see if you can score a deal.
Check With Family and Friends: Because you never know if your aunt is trying to get rid of a nice dining room table, or if your friend is looking to replace his patio furniture. Ask your friends and family if there are any pieces you can take off of their hands at a discounted price, or even for free.
Browse Online Marketplaces: There are countless listings for furniture in online spaces such as Craigslist, Ebay, and Facebook Marketplace. A quick search through these sites could prove to be a budget friendly way to find some of those perfect pieces for your home.
Time Your Purchases: According to Experian, timing your purchases is a smart way to save money if you want to go the retail route with your furniture. Wait for sales on holidays such as President's Day, Cyber Monday, Memorial Day, and Labor Day. It's also a good idea to wait until late Summer or late Winter to purchase items, as this is the time that retailers begin switching out their inventory.
Furnishing a home is a big undertaking, but it doesn't have to cost you big time. If you stick to your budget and take the time to look for deals, buying furniture won't break the bank, and you'll get the satisfaction of saving money.
---
This material is for educational purposes only and is not intended to provide specific advice or recommendations for any individual.