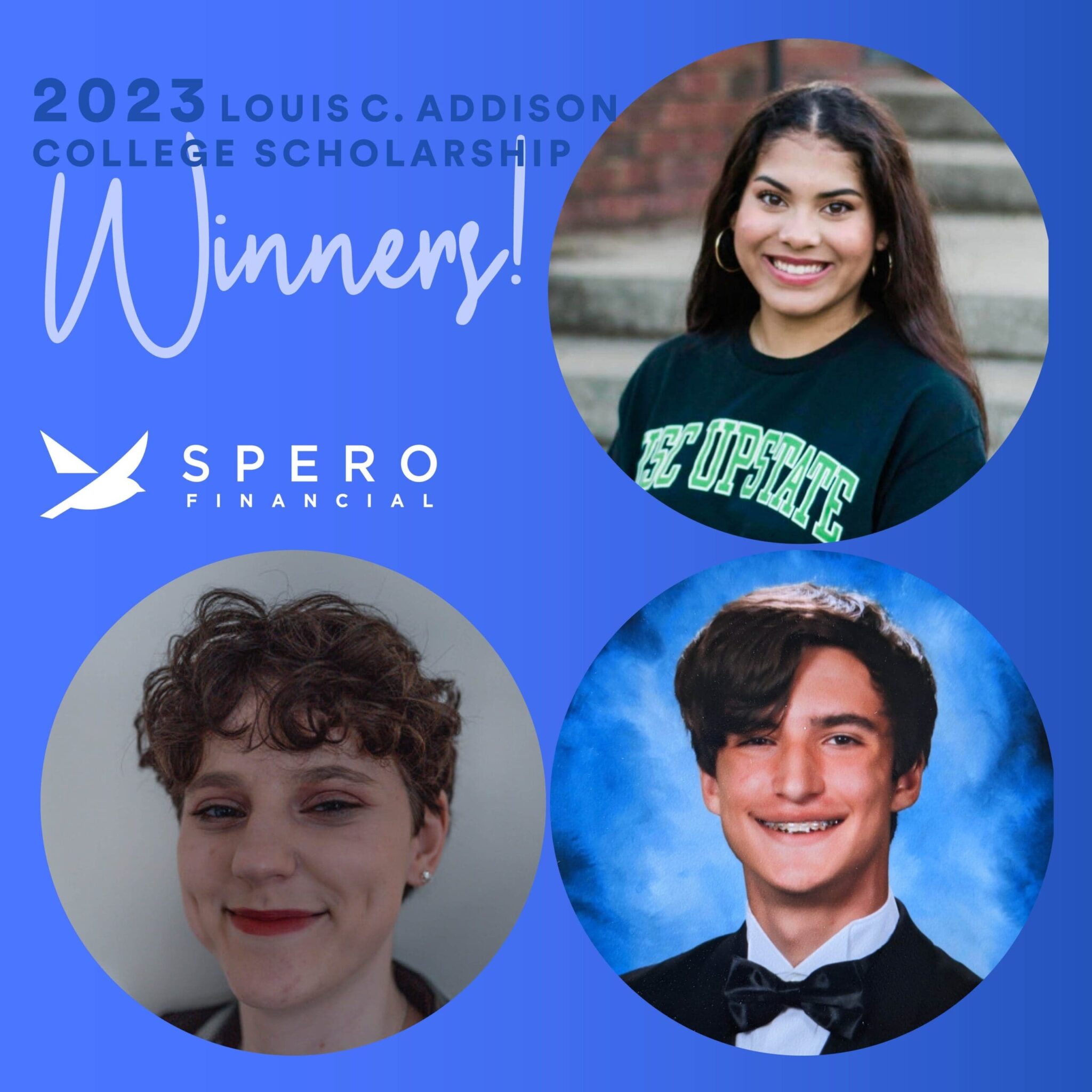 Greenville, SC (May 4, 2023) – Spero Financial announces the Louis C. Addison College Scholarship Winners for the 2022-2023 academic year. The three $3,000 scholarships are awarded to local students pursuing higher education. Named to honor long-time board member Louis (Lou) C. Addison for his love for helping people, since 2010, the credit union has awarded over $117,000 in scholarships to recipients.
This year's scholarship winners are Olivia Bonilla (top right), Madison Bonig (bottom left), and Robert Robbins (bottom right).
Olivia Bonilla of Greer, South Carolina currently attends USC Upstate, where she plans to pursue a master's degree in accounting. Olivia was elected Junior Class President and Student Body President. She is a member of the USC Upstate Trio and is involved with The Girl Scouts, earning a Bronze Award for her work in the community.
Madison Bonig of Elgin, South Carolina currently attends Spring Valley High School and plans to attend Lander University, where she will study Criminology in the fall. She is a member of the National Honors Society, National Thespian Society, and is involved in theater productions with the Spring Valley Players. Beyond this, Madison is a Junior Deputy with the Richland County Sheriff's Department and volunteers at her church.
Robert Robbins of Easley, South Carolina currently attends Easley High School and plans to attend the College of Charleston in the fall. He is a member of the Track & Cross Country Teams at Easley, where he was awarded Team Captain in 2022. Beyond this, he volunteers with Special Olympics, Foothills Gymnastics & Cheer, and is a lector at St. Michaels Episcopal Church.
The 2023-2024 scholarship application will be available for eligible members on October 2, 2023: https://spero.financial/college-scholarship/
About Spero Financial
Spero Financial Federal Credit Union was chartered in 1935 as a not-for-profit financial cooperative with one mission: to improve financial lives. As one of the Palmetto State's largest credit unions, today, it has more than 50,000 members and $655 million in assets. Headquartered in Greenville, South Carolina, the credit union's footprint spans the Upstate and Midlands with branches in Anderson, Easley, Greenville, Simpsonville, Spartanburg, Taylors, and Columbia. Learn more at www.spero.financial.