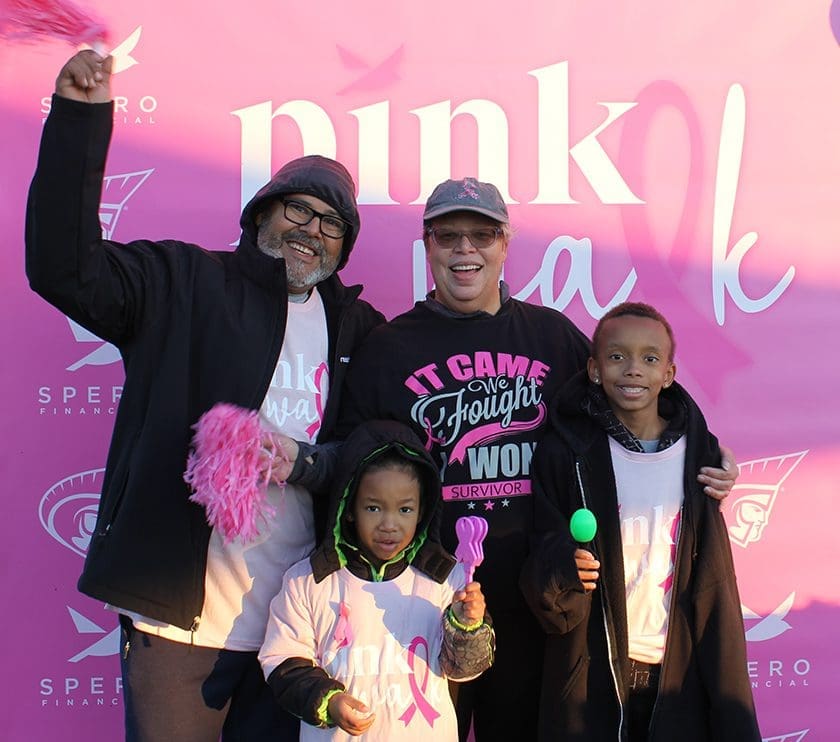 AnMed, Anderson University Athletics, and Spero Financial invite you to the 2nd Annual Pink Walk.
The American Cancer Society estimates that 1 in 2 men and 1 in 3 women will have cancer in his or her lifetime. It will impact 2 in 3 families. Propelled by the harsh reality that cancer has on our communities, AnMed, Anderson University Athletics, and Spero Financial joined forces in the fight against cancer.
They invite you to join them for the Pink Walk. This free community event is on Saturday, October 21 on Spero Financial Field (413 Williamston Rd., Anderson, SC) and is open to adults and children of all ages. Registration begins at 9AM and the opening ceremony begins at 9:30AM. The walk will immediately follow. The first 100 attendees will receive a free t-shirt.
All donations from the Pink Walk will benefit Play4Kay, a fundraising initiative that Anderson University Athletics and the Anderson Women's Basketball Team participate in annually. Play4Kay is part of the Kay Yow Cancer Fund, founded by Coach Kay Yow who passed away in 2009 after a 22-year battle with the disease. Money raised will aid in the fight against all cancers impacting women.
For more information and to register, visit www.spero.financial/pink-walk.
In the words of Coach Kay Yow, "This is something we can do together."
About AnMed
Founded in 1908, AnMed is an independent, not-for-profit health system serving Upstate South Carolina and northeast Georgia. It is licensed for 601 beds and anchored by AnMed Medical Center, a 508-bed acute-care hospital that has earned the prestigious Magnet designation from the American Nurses Credentialing Center. The system also includes AnMed North Campus and AnMed Rehabilitation Hospital in Anderson as well as AnMed Cannon in Pickens. Named one of the nation's 153 "Great Community Hospitals" by Becker's Hospital Review, AnMed has more than 370 physicians and 3,700 employees, and it is Anderson County's largest employer. Learn more at AnMed.org.
About Anderson University
Anderson University is one of the premier, private universities in the country - known among its peers as an institution that provides a rigorous educational experience, grounded in faith and innovation. Anderson University is regularly recognized by national organizations for affordability, excellence, and a commitment to student engagement and growth. Learn more about Anderson University at www.andersonuniversity.edu.
About Spero Financial
As one of the Palmetto State's largest credit unions, today, Spero Financial has more than 50,000 members and $700 million in assets. Headquartered in Greenville, South Carolina, the credit union's footprint spans the Upstate and Midlands. Learn more at www.spero.financial.